vivi's favorite things 2.5 and a giveaway!
Monday, April 29, 2013
Before I launch into Vivi's favorite things at two and a half, Darling Clementine is so kindly offering a giveaway of her number one – a little Maileg matchbox mouse (girl or boy, winner's choice!)! To enter, just leave a comment, and the random winner will be announced this Friday, May 3rd.

Now, onto Vivi's love list at two and a half: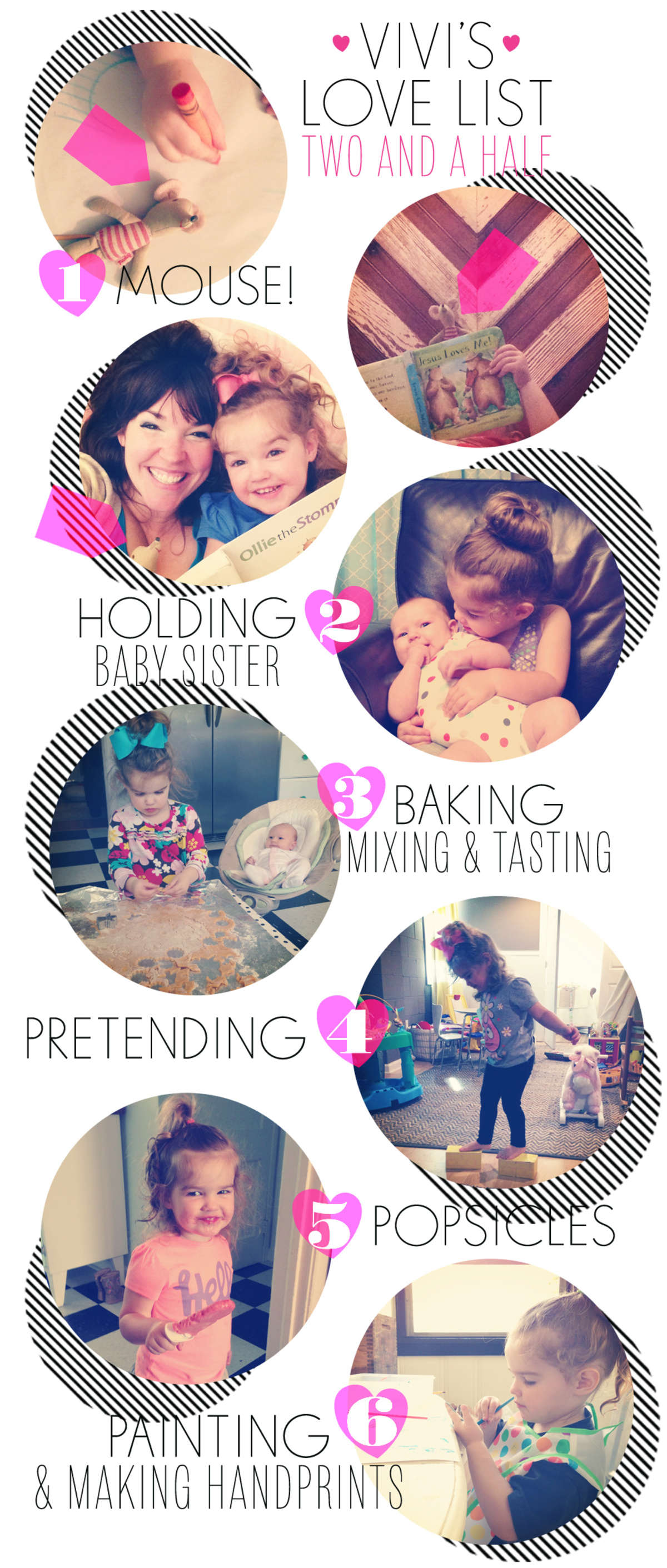 (1) The Ubiquitous Mouse: Lindsay of Darling Clementine so kindly sent this little mouse as a gift for Brigette when she was born. In true big sister style, nothing plush for Brigette makes it past the Vivi filter, so she quickly claimed it as her own. This little guy is a constant companion – he reads with her, eats with her, and sleeps with her. She loves making him talk in an extremely squeaky little voice, and somehow he also is helpful when trying to get her to do things that aren't at the top of her priority list, such as brushing her teeth or getting her diaper changed (I know, we are late on that train – was waiting to get through the transition of a new little person in our house!) if I use the mouse to talk to her in a squeaky voice. He has helped me avoid quite a few toddler battles, amazingly enough. I told Lindsay he has Gabba Gabba status, which you will know is the ultimate thing in her world if you have seen some of the pictures on Instagram.
(2) Holding Baby Sister: Ok, sometimes this makes me nearly have a panic attack, but my little sister survived my toddler affection, so I'm sure Brigette will be ok, too. I like to indulge Vivi's requests to hold Brigette when I can. It's the sweetest.
(3) Baking: This has become a new favorite activity. I held out on this for a long time, because I pictured flour and sugar all over my kitchen in quantities so large I would never get it clean, but it has actually been really great, and I feel a little bad that I didn't make it happen earlier now that I have seen how much she enjoys it. I have found it makes cooking supper so much easier when I find little ways to enlist her help. We make muffins, biscuits, and a favorite has been cheddar crackers. These are pretty great because she can play with the dough as much as she wants and cut out the shapes herself, and best of all, she can taste it. It's like play-doh, but with the ultimate perk of putting it in her mouth. They also make a fantastic substitute for boxed crackers.
(4) Playing Pretend: I have really enjoyed watching her imagination come to life over the past couple of months. It's pretty amazing. In this picture, she is pretending to skateboard. (Thanks to Yo Gabba Gabba and Muno.)
(5) Popsicles: Now that it's warm again, I have gotten out the popsicle maker. This thing is great. I just use straight fruit, sometimes with yogurt, and she dances around the kitchen while eating it like she has a cupcake. The instant gratification part is awesome for her little toddler self, and Vivi loves waiting for the kitchen timer to go off when they are ready after 6 minutes.
(6) Painting: I held off on this one, too, because I was afraid of the mess, but it has been a great distraction. She loves painting her hands and putting handprints all over her paper. The Crayola washable paint is so easy to clean off that it takes away a lot of the worry about mess. We also do it outside as well, which is a great sunny day activity.
Do you have any two and a half favorites to add?
139 responses to "vivi's favorite things 2.5 and a giveaway!"