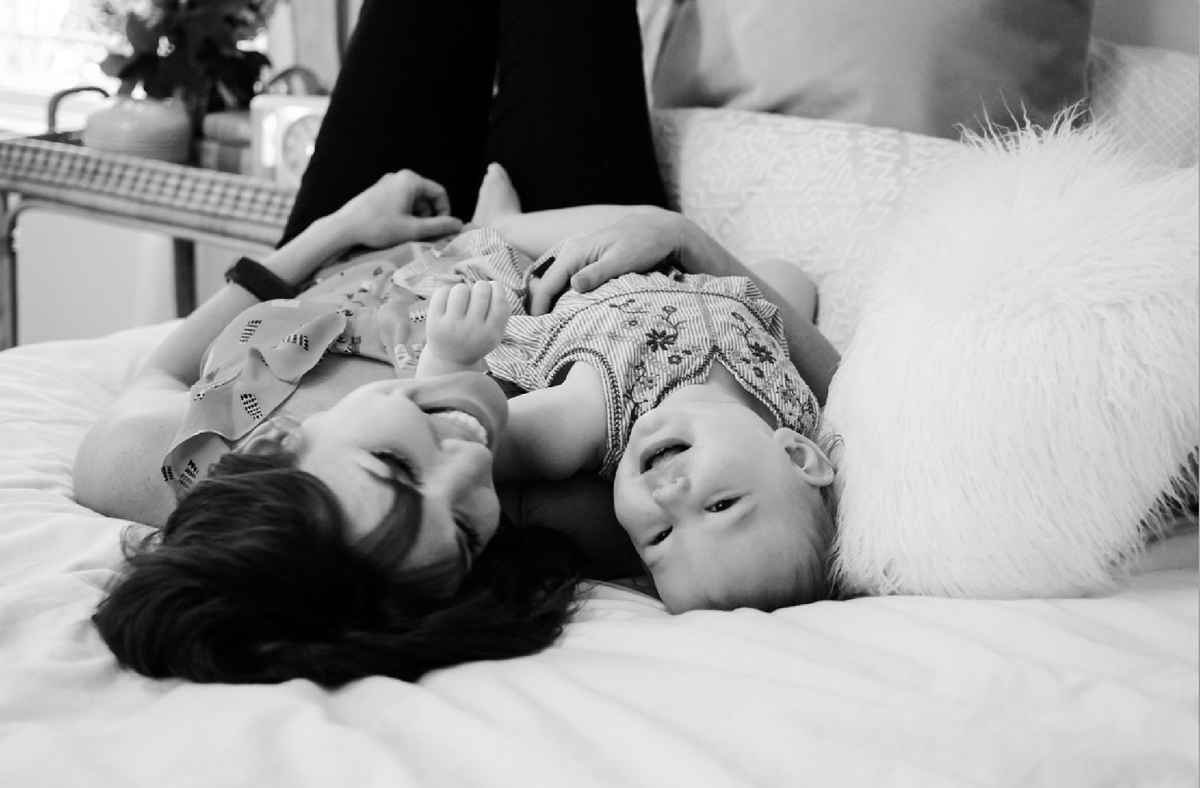 (sweet photo by Alea – more to come later!)  Motherhood has been somewhat exhausting lately.  I have this image in my head of a salmon swimming upstream; it's how I feel.  I feel like I am, from the minute they wake up until the minute they go to bed, swimming against a strong current of chaos and it seems that if I relent for a moment, we might just all drown.
Every season is so different; this one is a challenge because precious Vivi is in that stage where she is constantly delivering a stream of consciousness that I sometimes have a hard time following, and Brigette wants so badly to be a big girl like her sister, but can't quite communicate everything yet (although she is making huge strides!).
I also feel like my brain is hard-wired to hear my children's voices.  (I mean, it probably actually is in some way).  It seems whenever I am talking with someone, whether on the phone or in person, if Vivi or Brigette begins talking I cannot possibly sort out what the other person is saying.  I am immediately tuning into my children's voices, sorting through in my mind what course of action needs to be taken (much like this video, which I completely identify with!).
It seems like my arms should be much more lean and toned than they actually are.  I feel like I am forever holding up the emotional and physical well-being of this household.  It's a big job, to be sure.  I'm not trying to complain here, just expressing what this season is like.  And my girls are truly the sweetest.  It's not really even misbehavior (because honestly, it's rare right now!) that makes the days long; it's just the way it is.
I've been reading Homemaking by J.R. Miller, which Lesley recommended.  I'm sure many would find the ideas and thoughts in it somewhat dated and perhaps even backwards (there's my disclaimer), but I am loving it.  As a stay at home mom, it is so inspiring, and I find myself to be encouraged by the gorgeously written prose (from 1882!), this little excerpt in particular:
When we look at a little child and remember all this, what a dignity surrounds the work of caring for it!  Does God give to angels any work grander than this? . . . But is any work in marble so great as hers who has an immortal life laid in her hands to shape for its destiny?  Is the writing of any poem in musical lines so noble a work as the training of the poem of a human soul into harmony?
Whew.  Being a mama is not an easy task, but I'm so grateful that it's mine.  It is both the sweetest and the toughest thing I have ever tackled.
(And, p.s. the playhouse will be up tomorrow!)