Nursery ideas with Cricut
Wednesday, April 6, 2016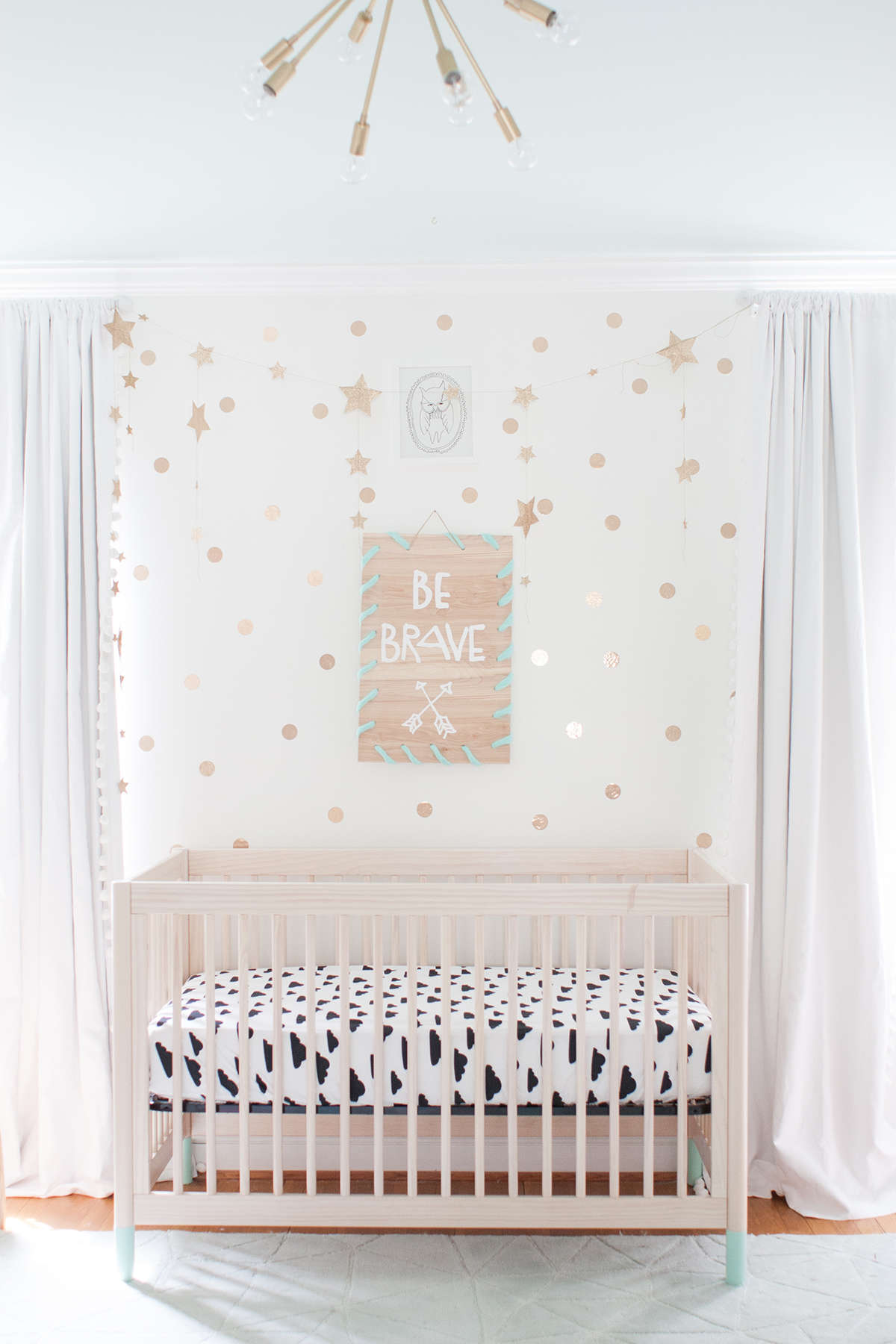 I'm so excited to have a Cricut to use for projects; there is so much this beautiful machine can do! It's so thoughtfully designed, and works like a dream. I had an industrial vinyl cutter that was really bulky, cumbersome, and tricky to use. I'm in love with the way my Cricut stores so neatly, prints/cuts wirelessly, and has all the same functionality. I can't wait to delve into some more projects (the options are literally limitless!), but I'm starting off with a fairly simple one that I hope you will love! (and be sure to check out the amazing $2,500 dream nursery contest Cricut is currently hosting!)
(sources for above: gelato crib; owl print; crystal mosaic rug; cloud crib sheet)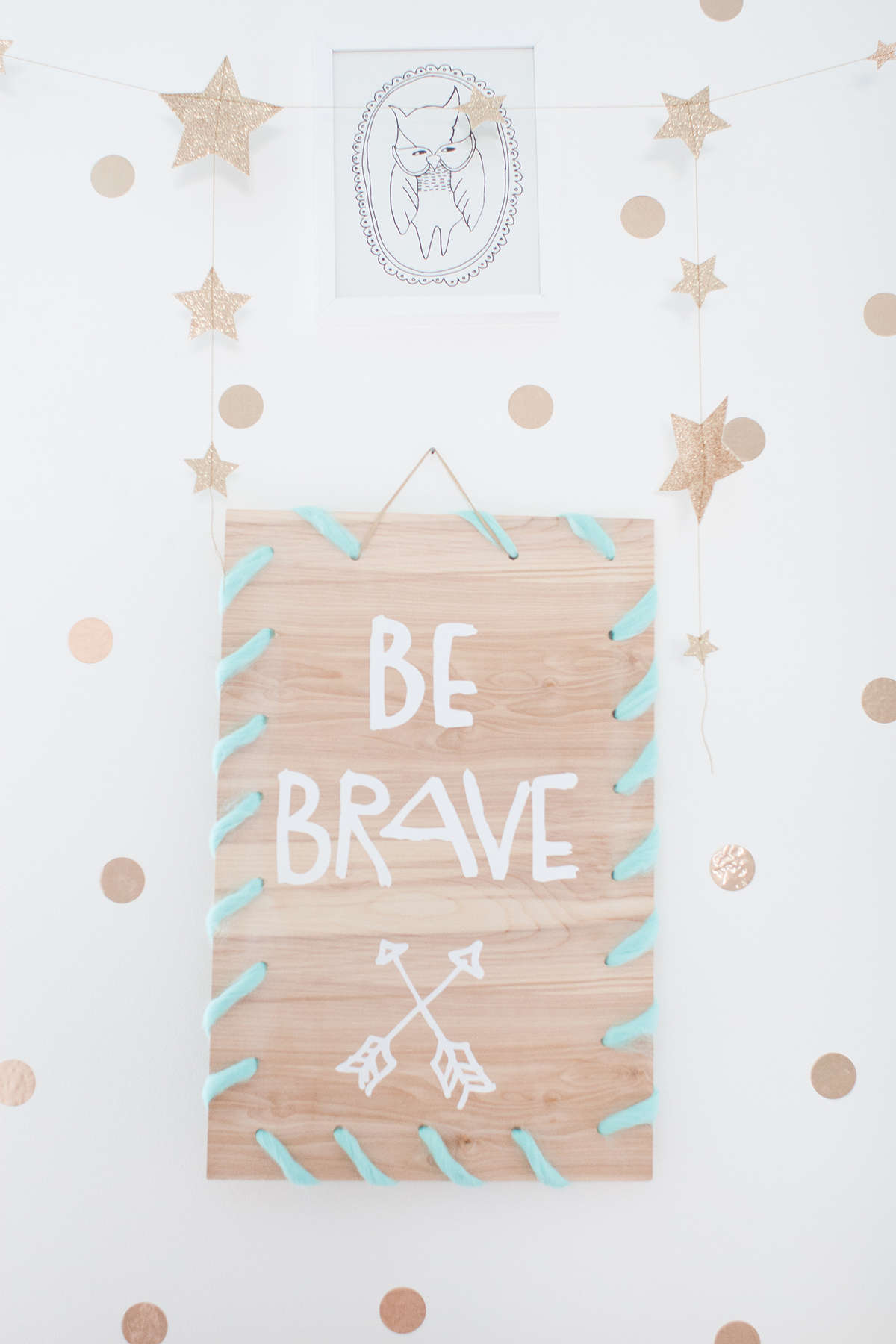 For this project, you will need:
Cricut | White Vinyl (or color of your choice) | 16″ x 20″ 1/4″ Birch plywood (you can have it cut to size in the store!) | super chunky yarn | Drill and 1/2″ drill bit | cord for hanging sign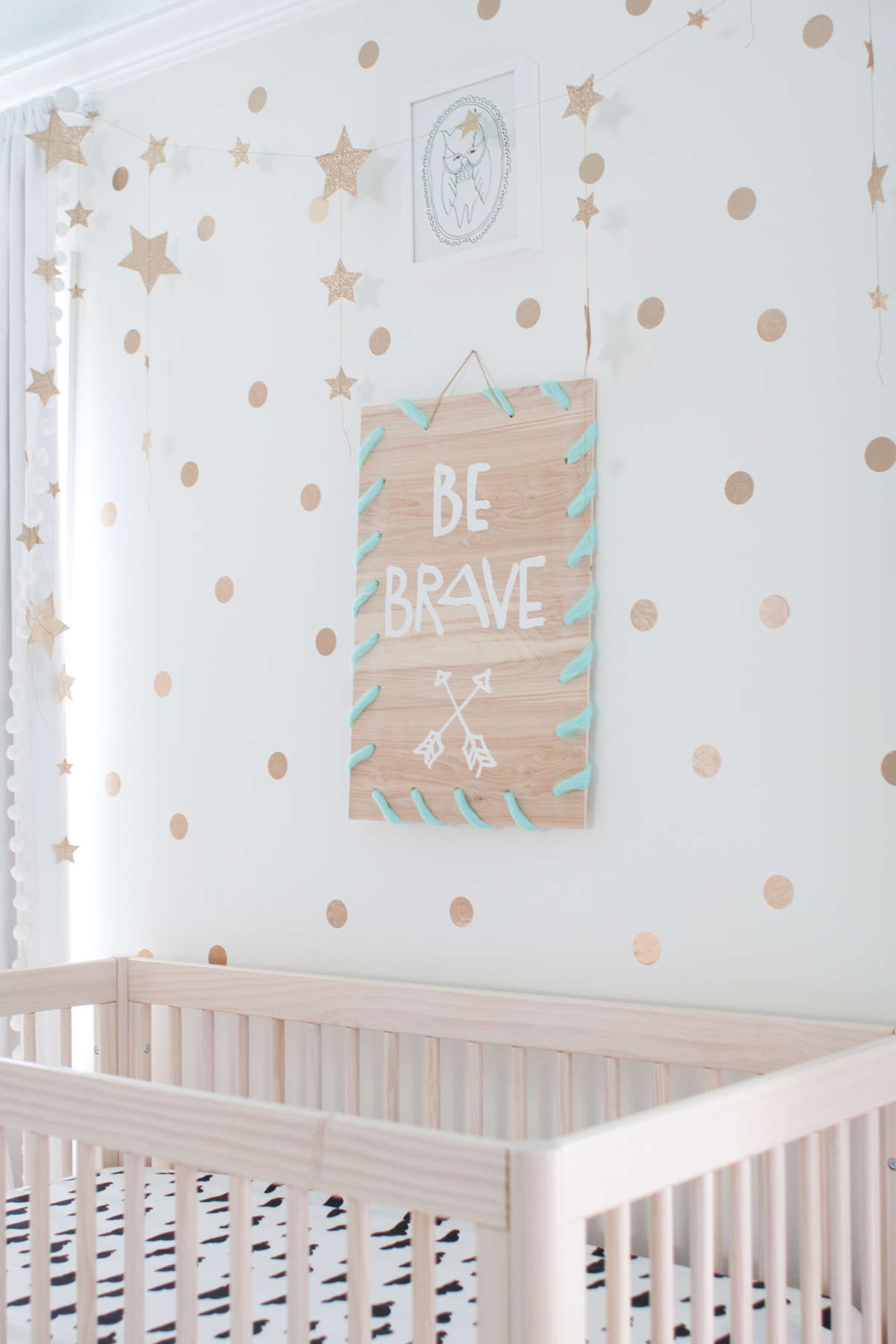 To get started, download this file (or this one for the "set your course" version). Upload it into Cricut Design Space, weld it, and then cut it and weed the vinyl. Sand any rough edges on the wood, and then transfer the letters to the wooden board. Normally, you need to use transfer tape, but I found it to work just fine applying the letters one at a time like stickers if you would rather do it that way.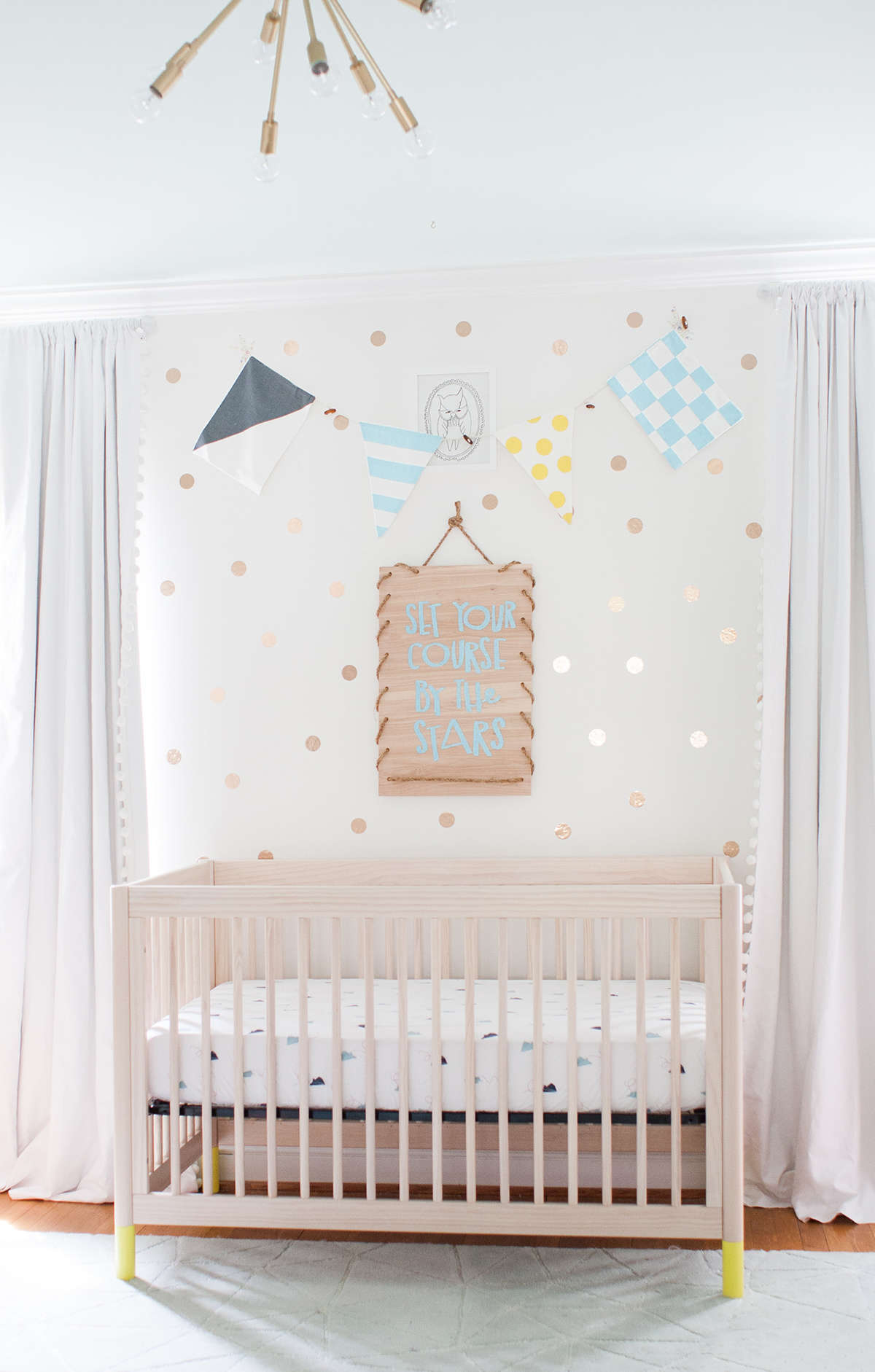 Next, drill holes along the edges of your board about 2.5″ to 3″ apart. Sand any rough edges, and then thread the yarn (or rope, as shown above) through the holes. I found it worked well to wrap tape around the edge of the yarn to make it easier to thread through the holes. Lastly, knot the end, or use some twine or cord to hang it up!
(sources for above: Spring Yellow feet for the gelato crib; maritime garland)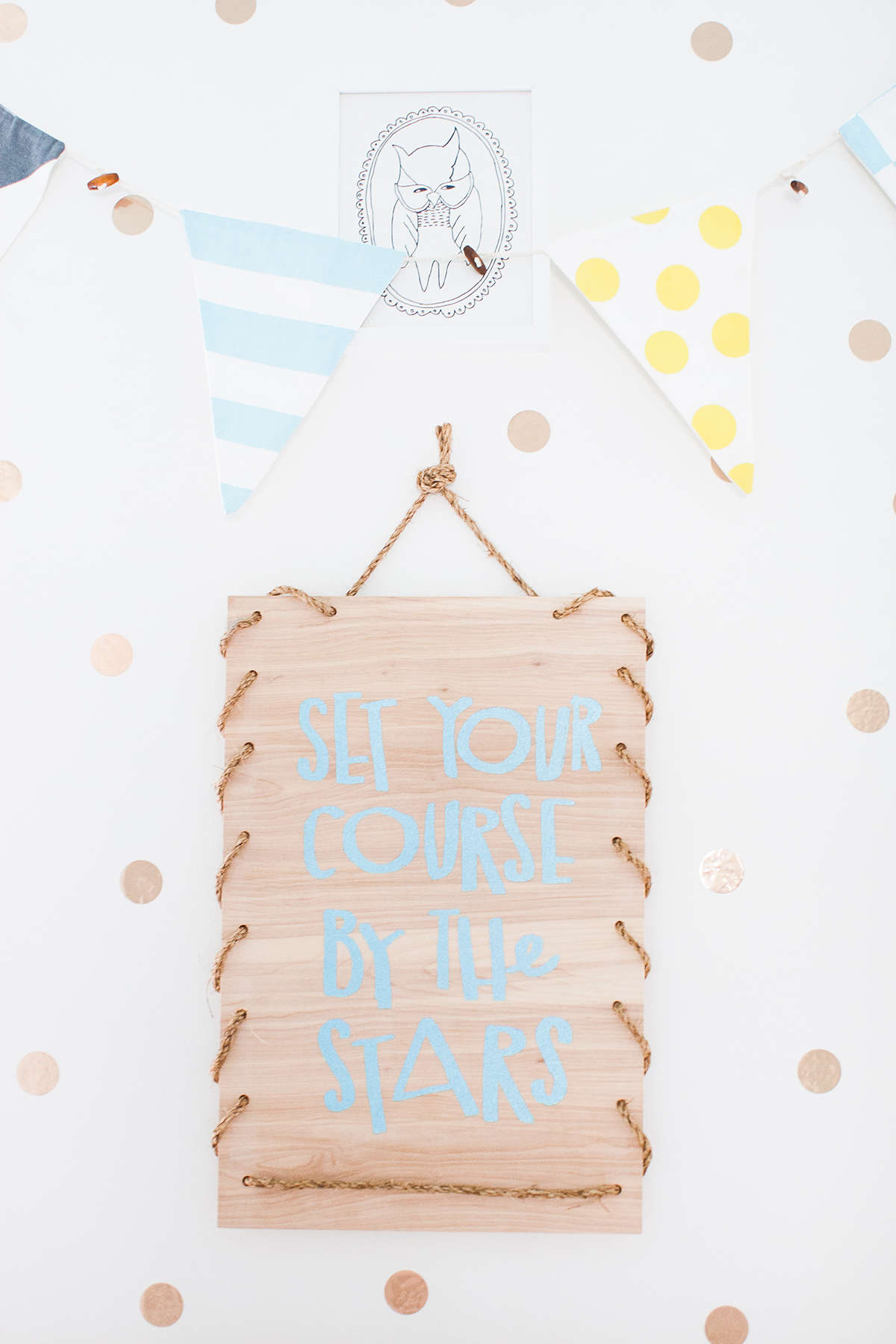 I also used the Cricut to cut out those gold circles by inserting a shape in Design Space – they are about 1.5″ in diameter. I love the bit of pattern and interest it adds to the wall! I think black would also be really fun.
Hope you are inspired by this little project! Love how it turned out, and the girls were equally fascinated watching the machine cut the letters. Can't wait to try out more with them! (and p.s. don't forget to check out the nursery giveaway!!)
Thank you so much to Cricut for sponsoring this post. I love working with companies who encourage creativity so that I can help support my family and continue creating inspiring content!