shared room inspiration with the land of nod
Monday, May 11, 2015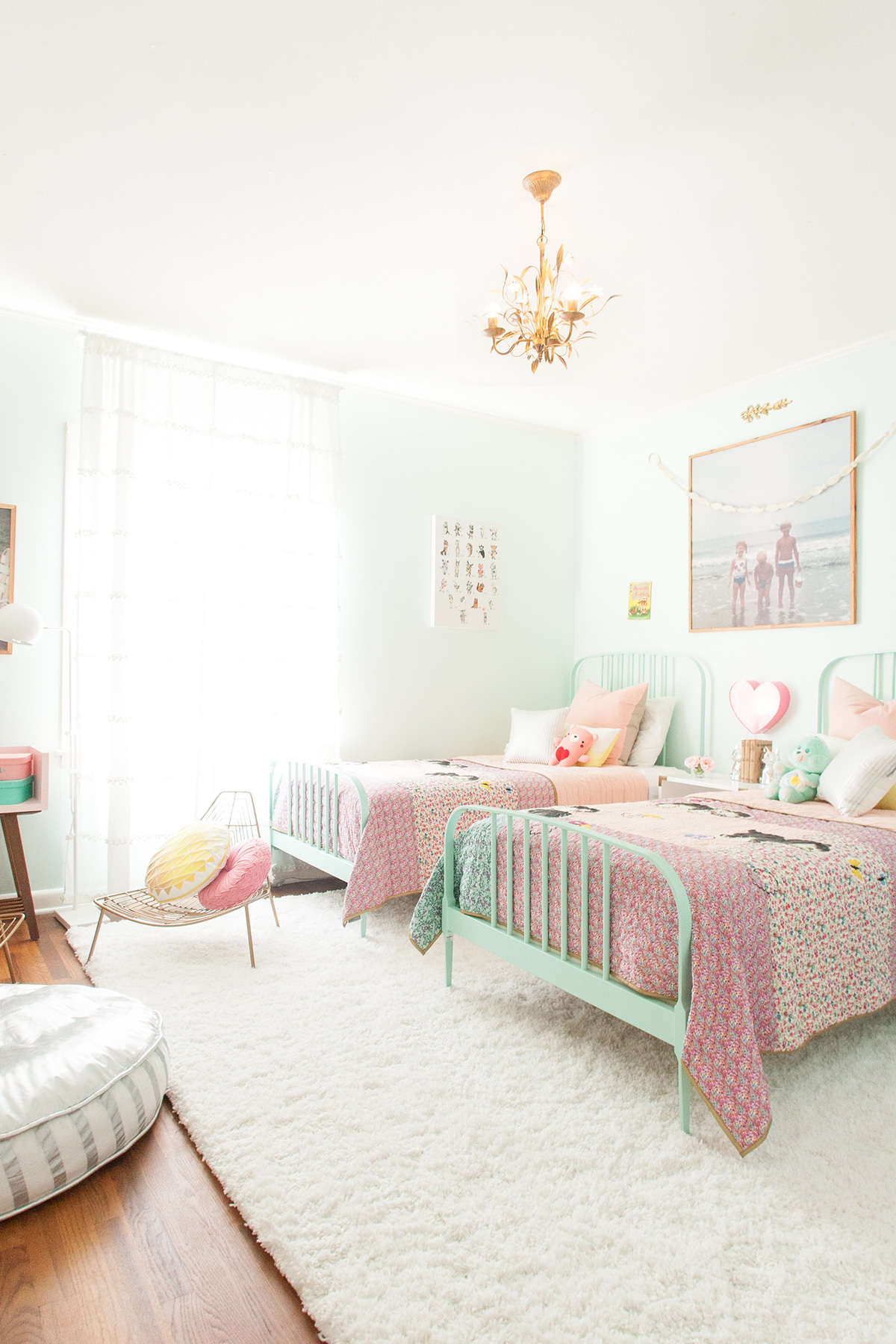 I'm so excited to get to share this room with y'all today! This has been such a fun project, and might just be my new favorite. I love it when a passing thought ends up working out to become a meaningful endeavor. I shared this style board recently with the direction for this room, and here is is all completed. (I'm SO grateful to the Land of Nod for working with us on this little dream project! Be sure to check out their blog, Honest to Nod, today for some extra tips on creating a grandchildren's guest room at Nana's!). Chip's parents (Nana & GDaddy) don't live too far away from us, and we enjoy spending fairly frequent overnights there. I asked Nana if she would be up for working on a room refresh, since she now has three granddaughters (my girls, and their cousin) after raising two boys. She went along with it, and I appreciate her going out on a limb and letting me work on this space in their sweet home. It's actually the house that belonged to her grandparents, and there are a lot of memories and heritage here, so I know it's no small thing to turn over a room to her daughter-in-law!
(sources from above: walk softly rug; silver stripe floor cushion; mint larkin beds; chandelier; gold domino chair; pom pom curtains; A to Zebra canvas; hemisphere floor lamp; sunshine pillow; ruched pillow)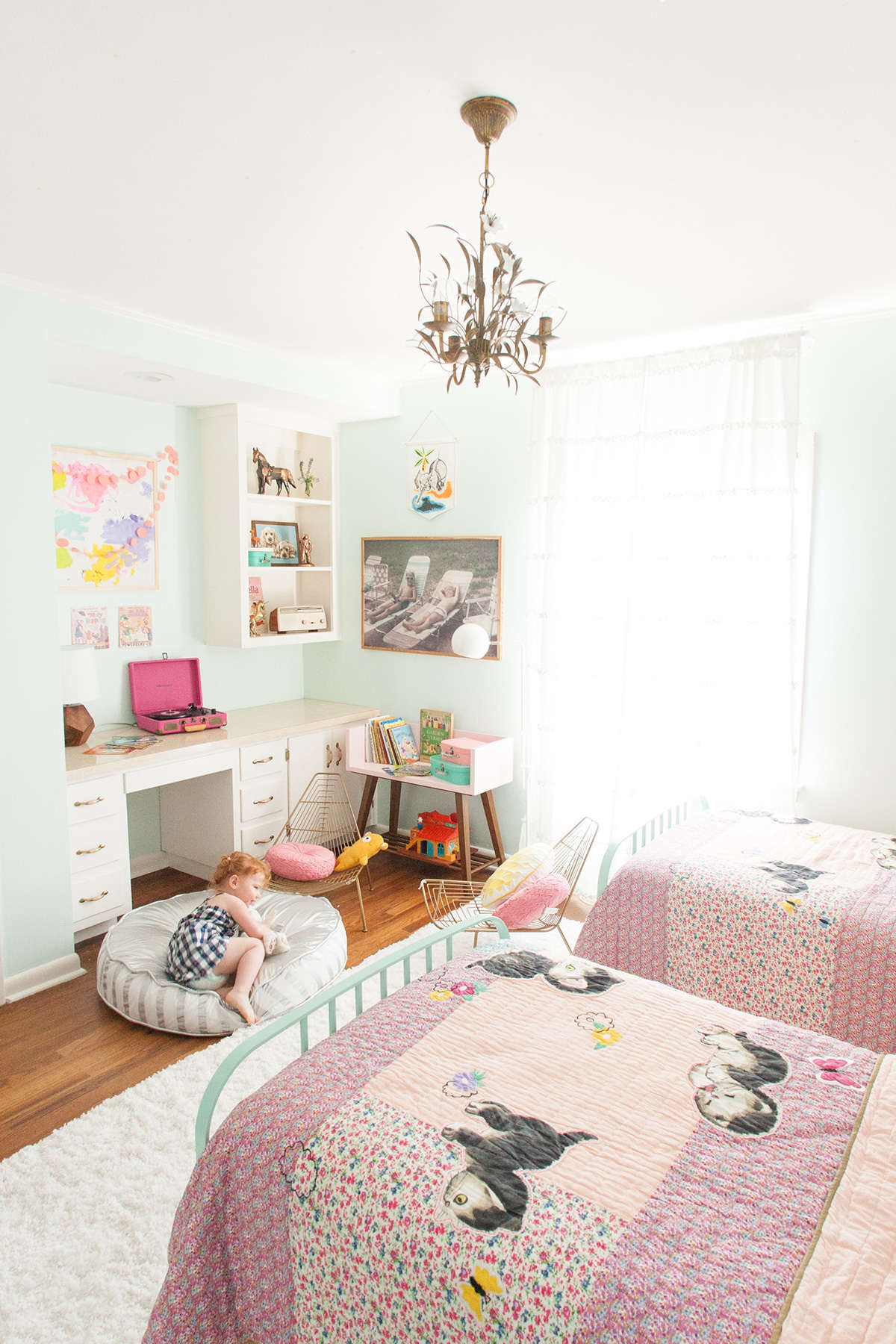 To start with, we lightened up the space by repainting the walls. We went with Irish Mint by Benjamin Moore, which is a really light, happy shade. Sometimes I feel like it looks a touch more blue than it appears in these photos, but it can change a little with the light. Also, I love that chandelier! The price isn't too bad, and it feels a bit like a vintage tole chandelier even though it's new. I also extra love it with round light bulbs.
(sources: shy little kitten quilt; saggy baggy elephant banner; pink record player; wood geometric lamp; alto bookshelf; silver stripe floor cushion)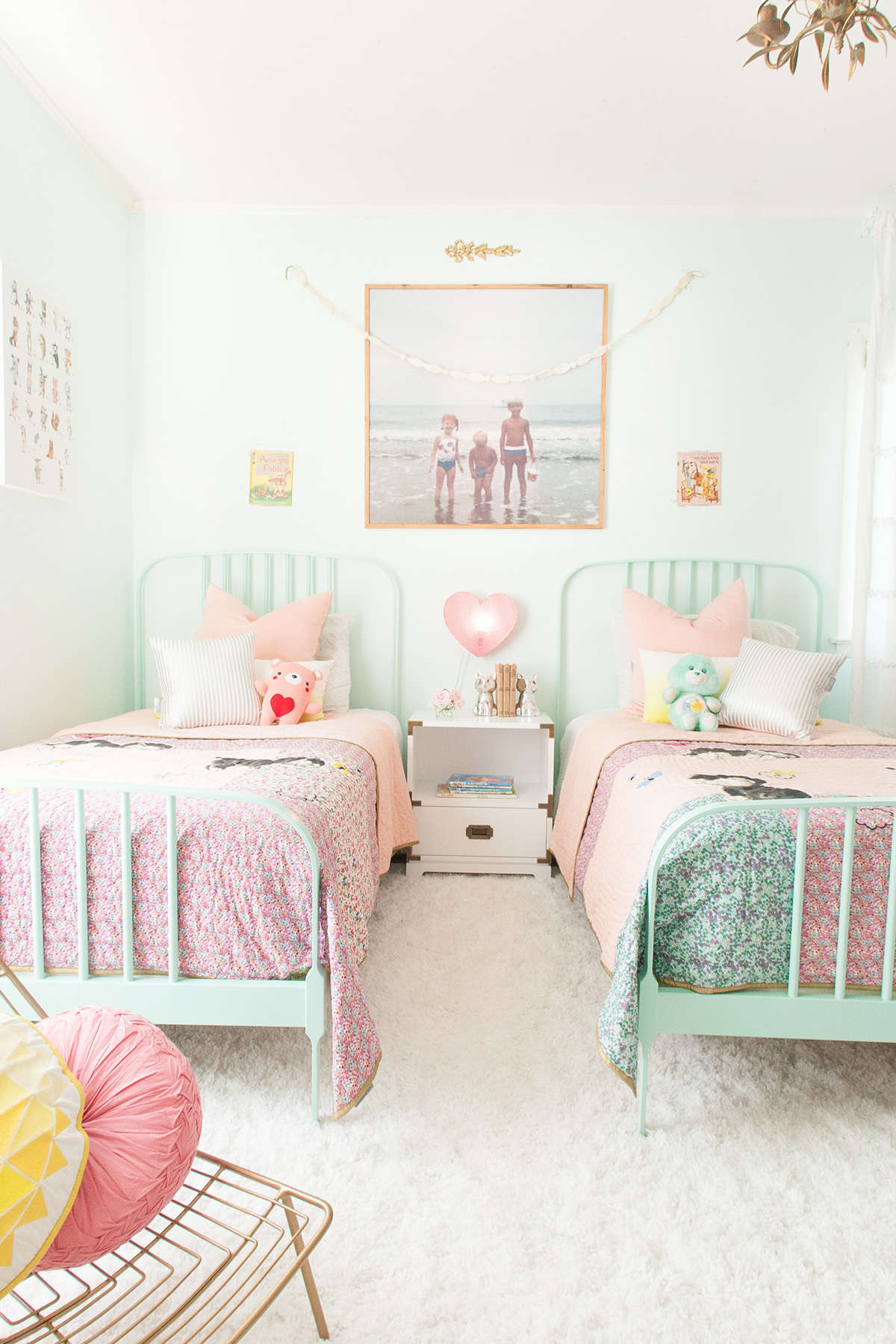 I adore these mint larkin beds from The Land of Nod! Aren't they so sweet? I love the punch of color and the light frame. It really opens up the room since they have such a minimal silhouette. The rug is the walk softly rug, which is super cushy and comfortable. I think I could sleep on it! We used the Shy Little Kitten quilts on the beds, which I think it extra sweet since Nana reads a lot with the girls, and the quilt pattern has sort of a classic little girl feel to it, which I feel is perfect for Nana's house. That nightlight gives the perfect glow, too.
(sources: garland; pop icon nightlight; silver fox banks; campaign nightstand; silver pinstripe pillow; yellow geo pillow, sleepy king bear; pink shams)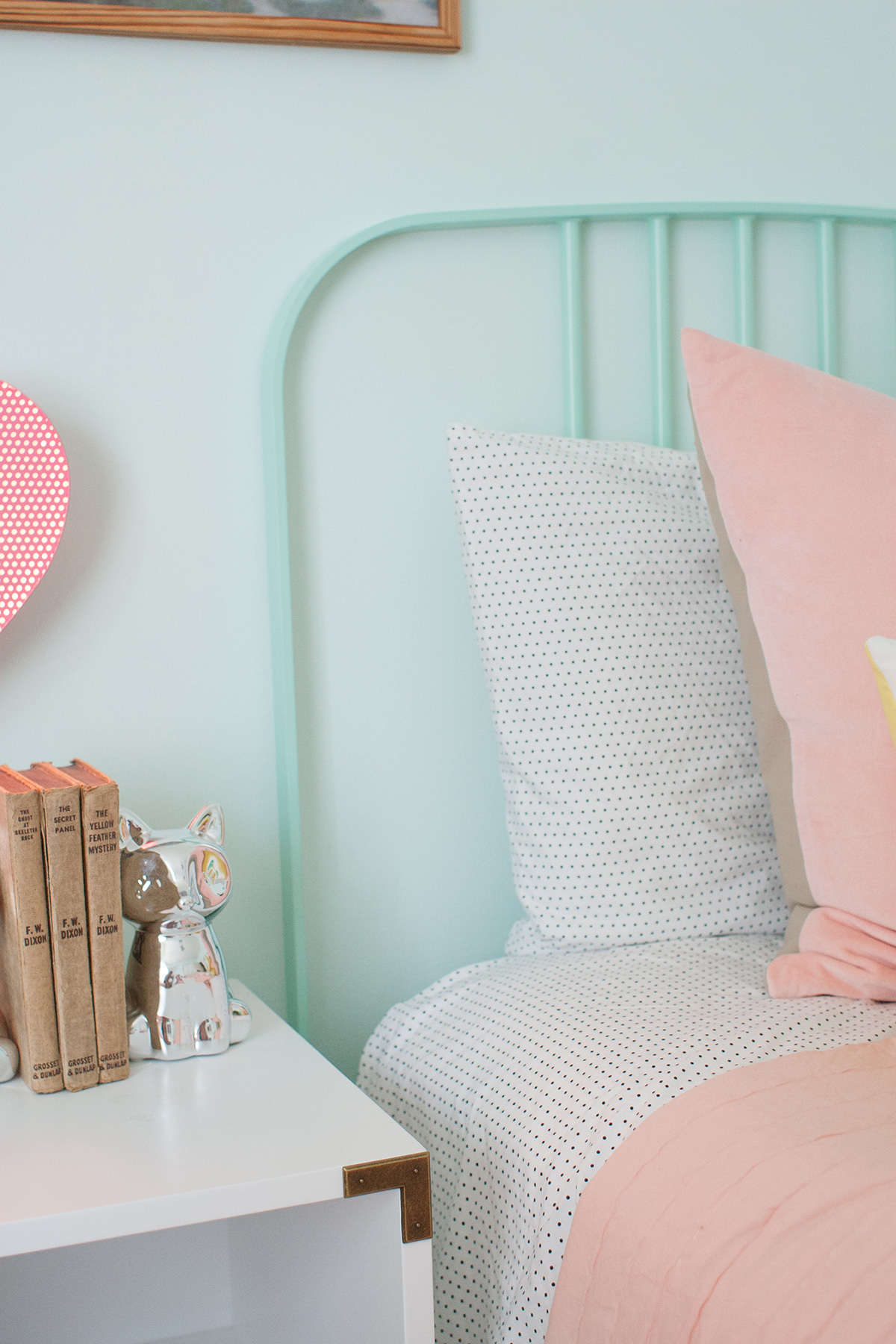 The quilts are paired with these simple but sweet swiss dot sheets, and this peach pillow, some striped pillows and these yellow dipped pillows.
(sources: pink shams, swiss dot sheets; silver fox banks)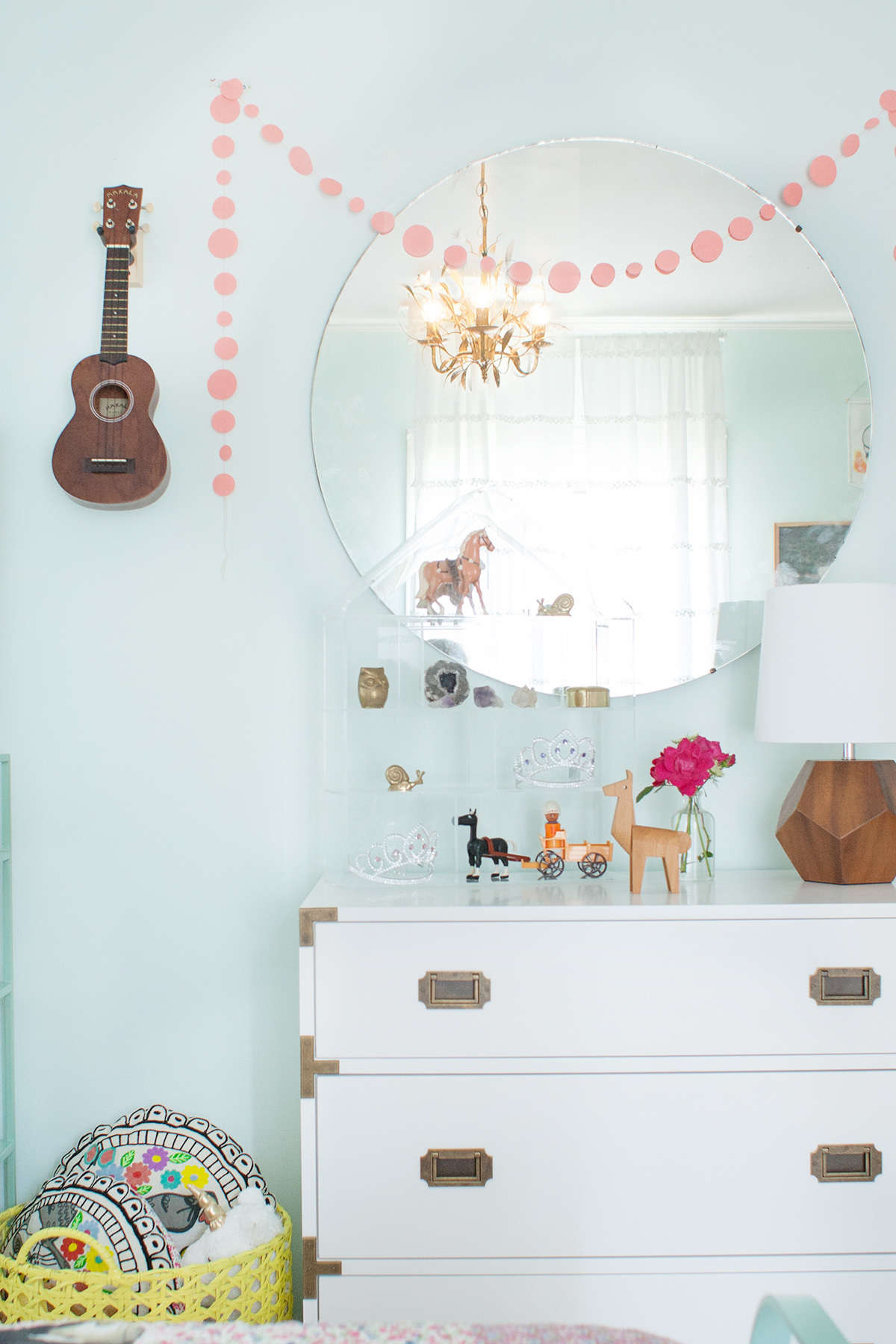 The campaign dresser is one that will last for years to come, and we paired it with a vintage round mirror. I love that invisible house shelf – it would also be sweet on the wall, but I like it as a little display of keepsakes and treasures on the dresser. Several of those little goodies are from Chip and Rusty's childhood.
(sources: invisible house shelf; shy little kitten pillows; yellow lattice bin; campaign dresser; pink garland; wood geometric lamp)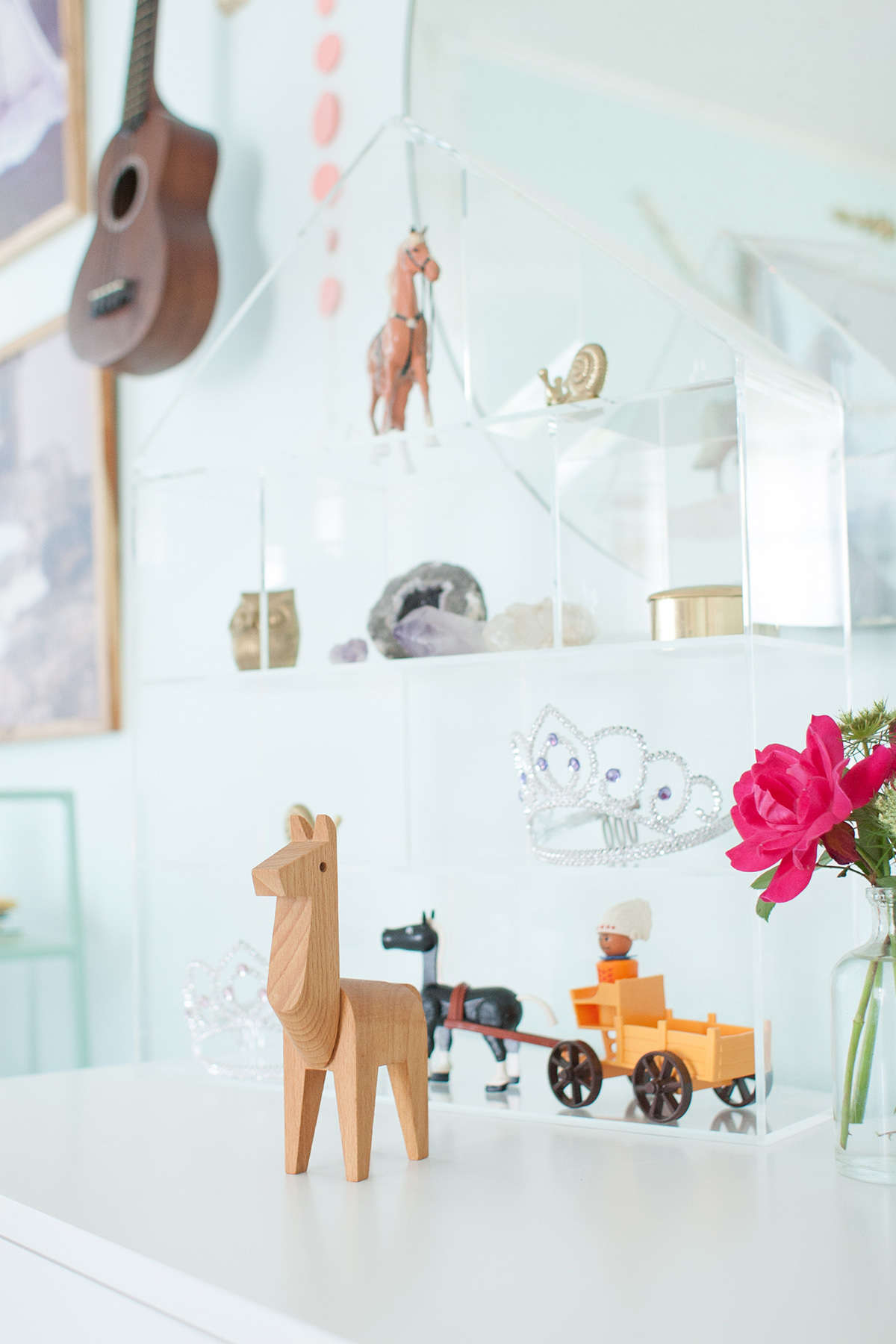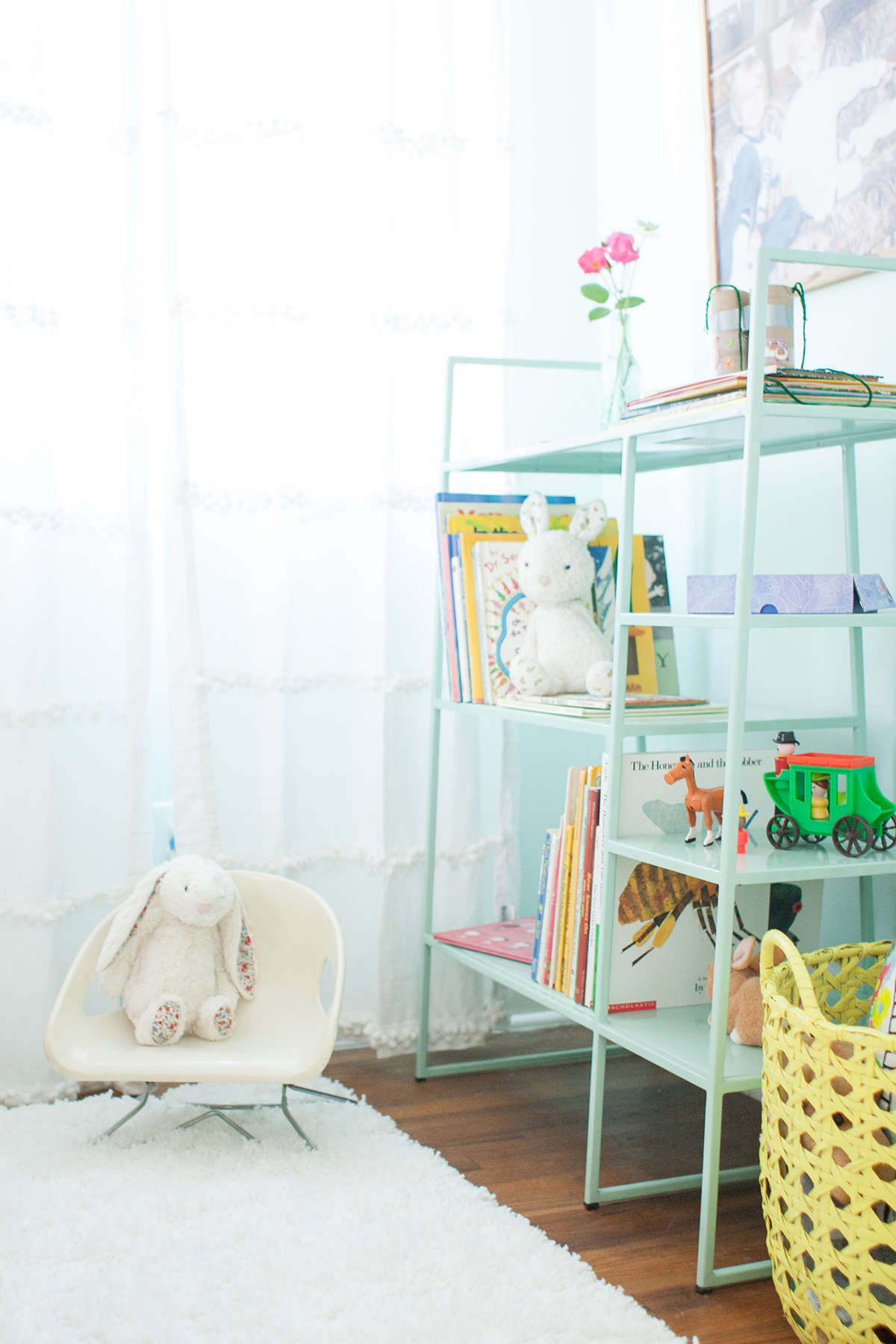 I also love this mint metalwork bookcase. We used furniture pieces that felt lightweight, which makes the room feel extra open and bright. It's the perfect piece for displaying favorite toys and storing books.
(sources: mint metalwork bookcase, pom pom curtains, yellow lattice bin)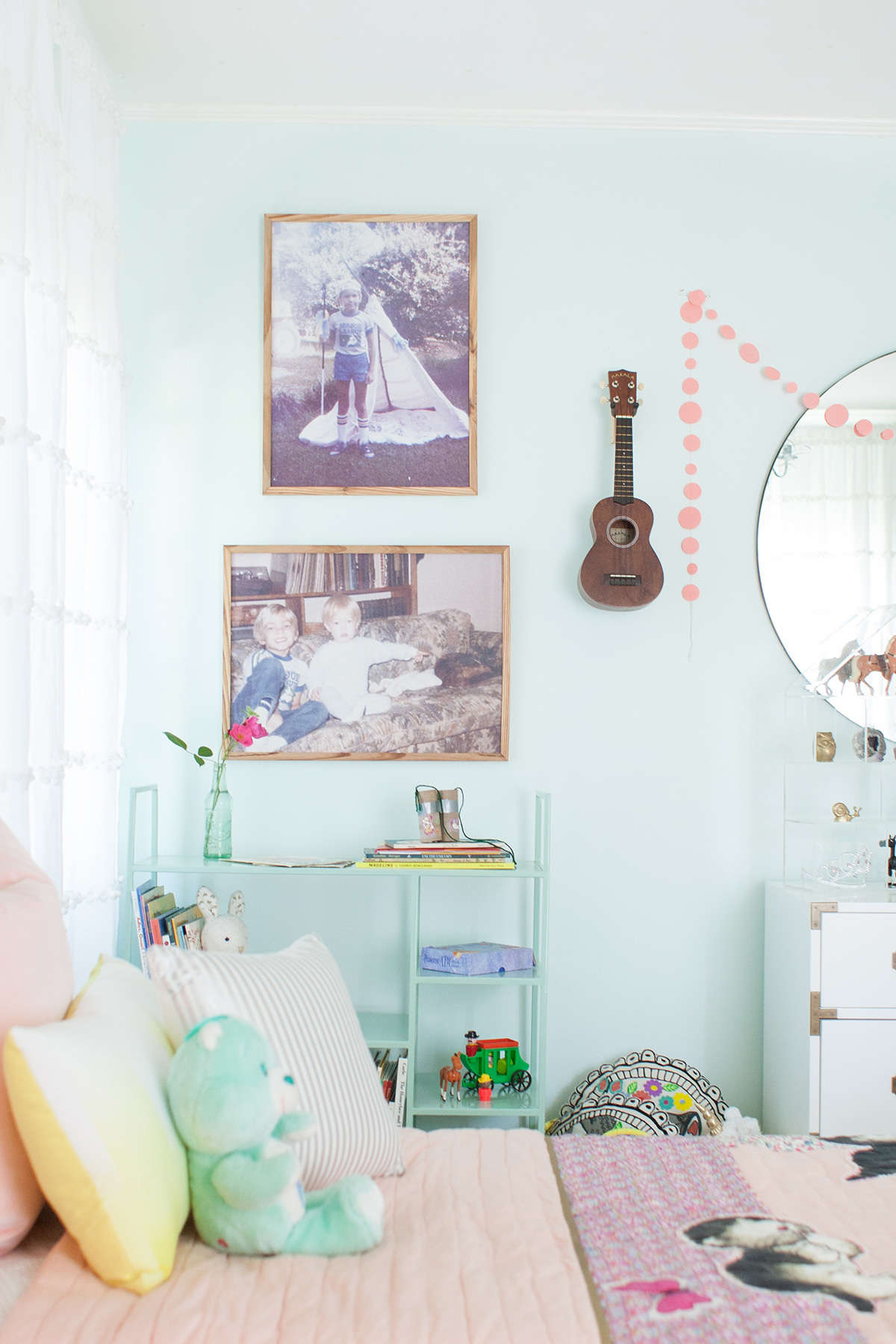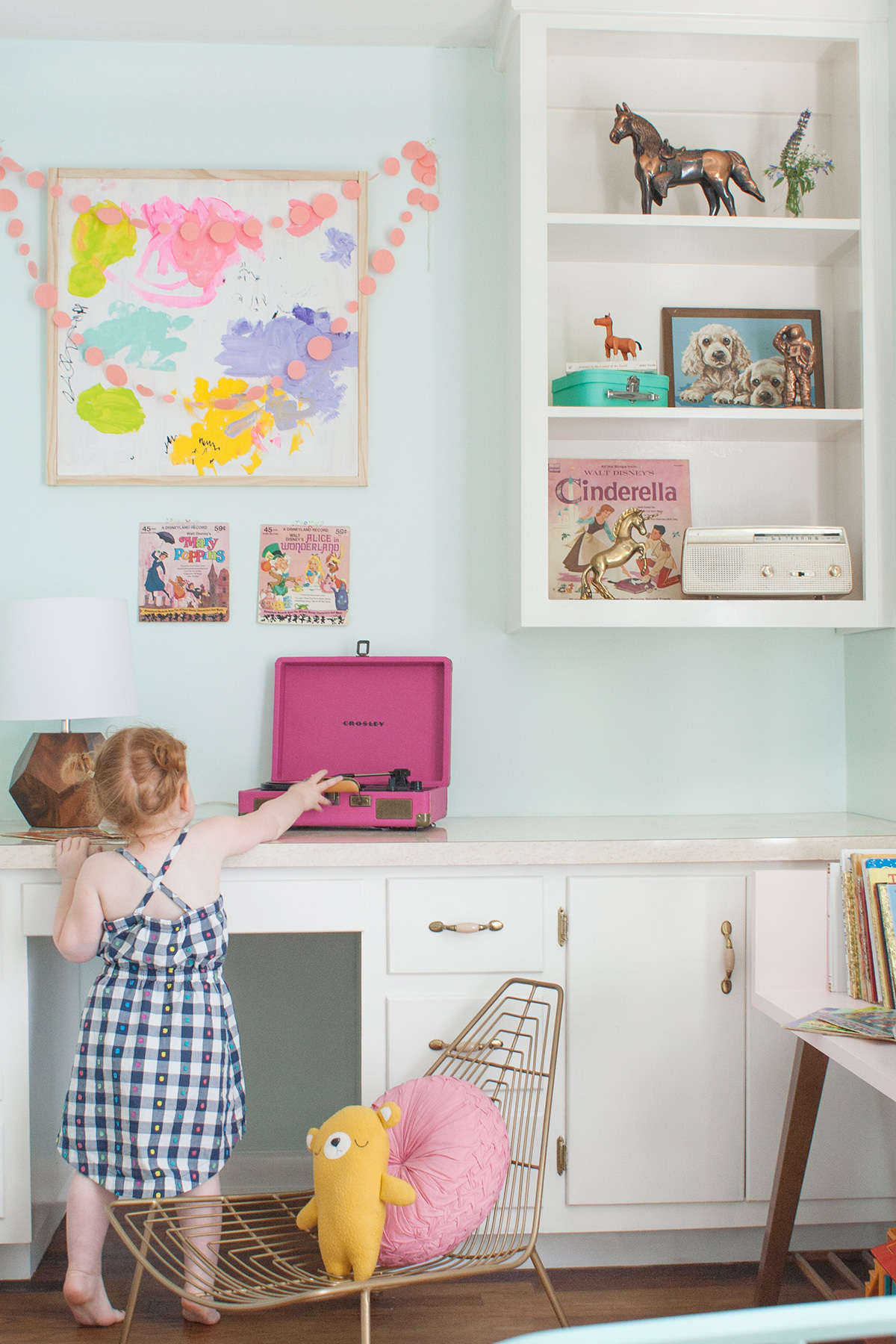 On the other side of the room, we set up a little reading station with these adorable gold domino chairs, a silver floor cushion, and a record player with some audio books that the girls love.
(sources: wood geometric lamp, pink record player; pink garland; gold domino chair; pink ruched pillow; sleepy king bear, brigette's dress)
(sources: saggy baggy elephant banner; bon voyage suitcases; hemisphere floor lamp; pom pom curtains; ruched pillow; gold domino chairs; alto bookshelf)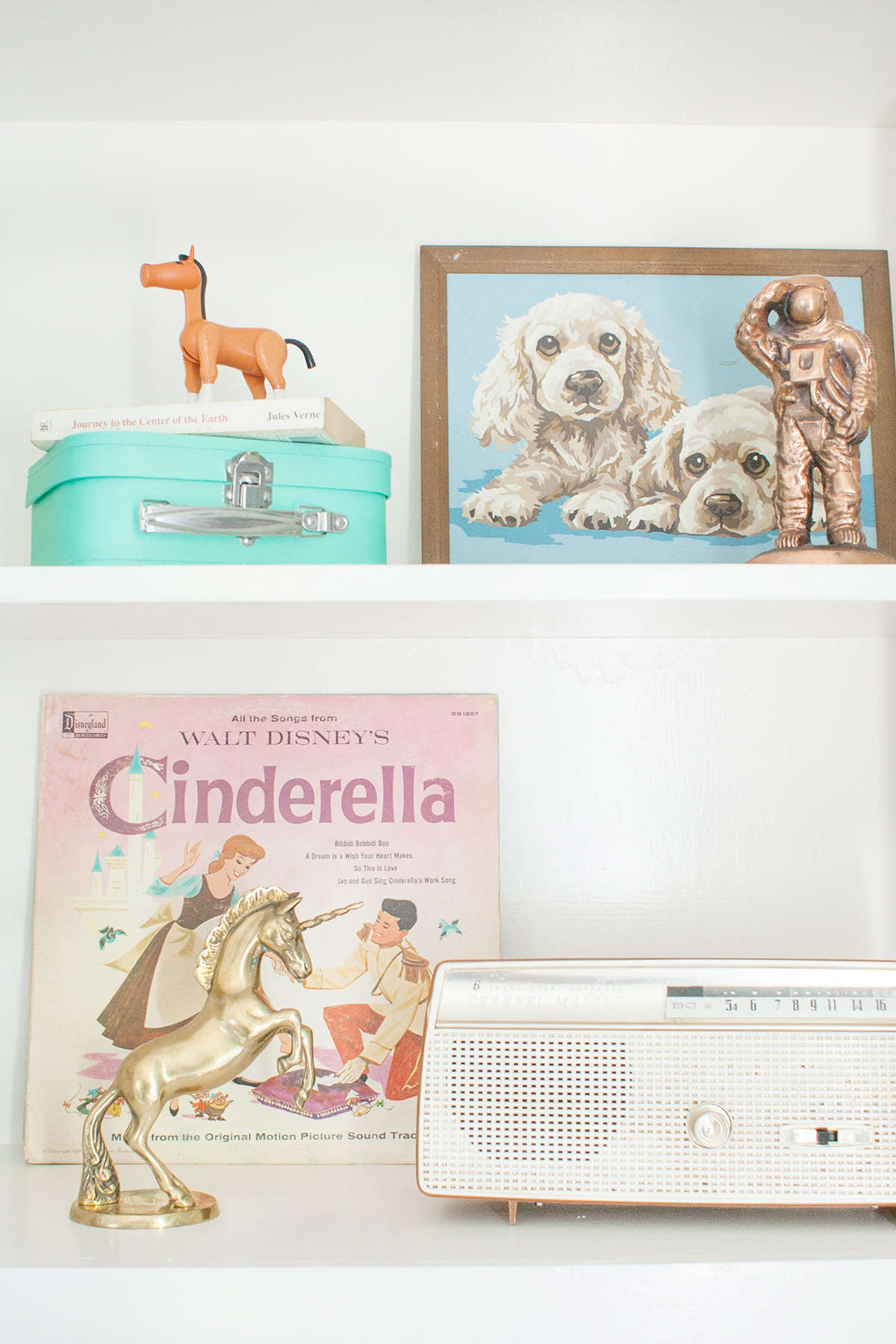 I love that little astronaut guy above that Chip got at space camp as a kid! Such a fun little treasure!
I hope that you are inspired by this space – it was so fun to put together something extra special at their grandparents' house! Best of all, the girls are totally smitten with it, and Nana is happy, too!
I'll be sharing a few other details this week (such as the artwork), so stay posted for a little more!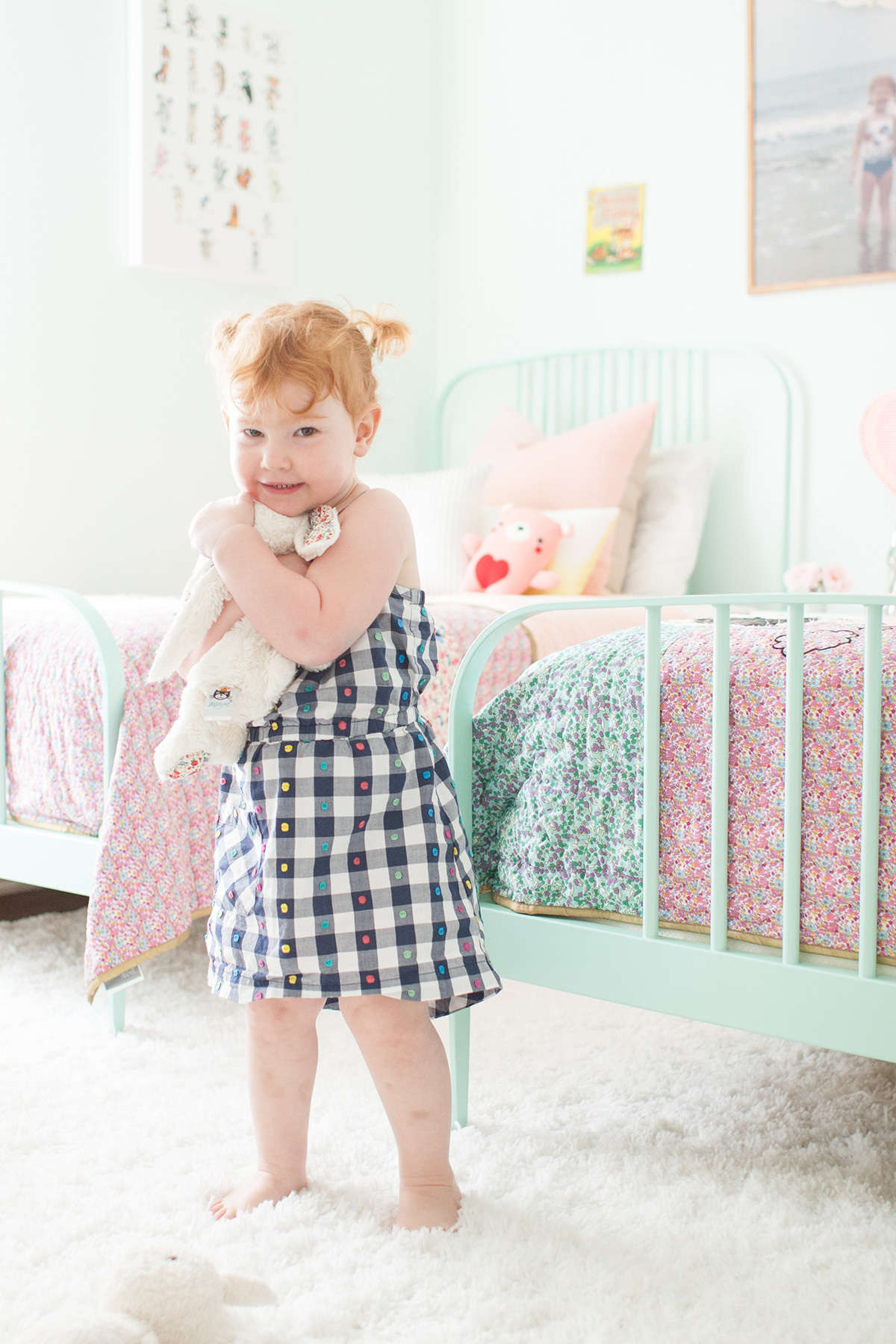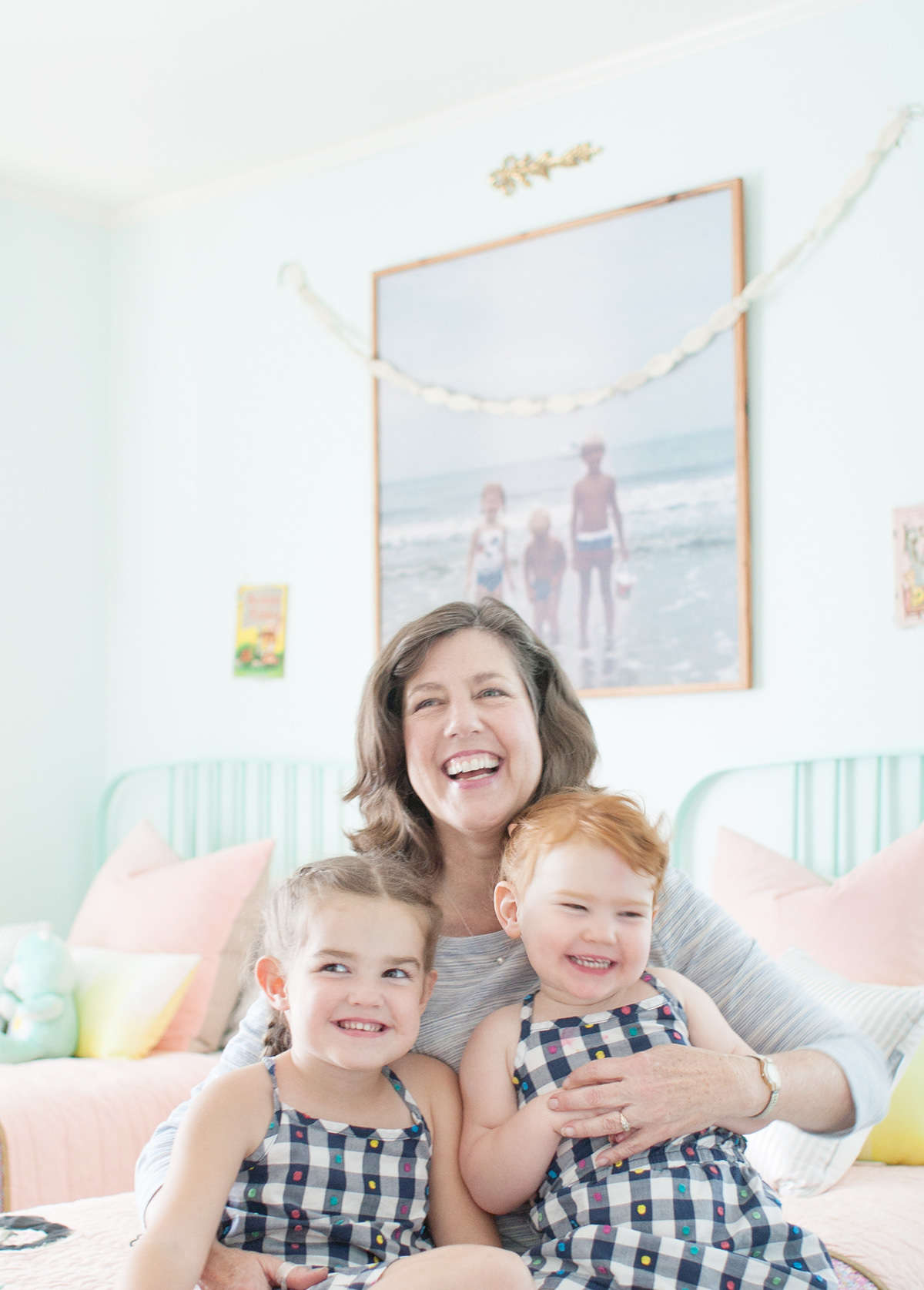 22 responses to "shared room inspiration with the land of nod"