vivi's bright toddler room
Monday, February 4, 2013

Finally, here are some pictures of Vivi's room all re-arranged with her big girl bed in place. (See here and here for previous posts on her room.) This ended up happening much earlier than I anticipated, and I was anxious as could be about the transition, but it has ended up being really great. We had a tough couple of weeks getting her adjusted, but I'm glad we were able to make the change before baby, so we were able to be patient and well rested throughout it. All that to say, this was done on a bit of a whim, and with the last remaining end-of-pregnancy-just-got-done-with-a-nursery-energy I had. My favorite part is the headboard her Grandpa crafted out of wood from her great-great-grandmother's home (V for Vivi!). I'd post a DIY, but it's only a DIY if you know how to do things like cut angle iron, braze, and use a mitre saw with precision. The one part of the whole process I could DIY was say, "yes, those pieces of wood look nice." We moved the bookcase beside the bed, which is a great sturdy little nightstand where we can place a sippy cup of water, and we have easy access to all her books at bedtime.

We added those little teapot hooks from the Land of Nod for her jackets and coats (we live in Atlanta, so her outerwear wardrobe isn't that extensive), and moved the changing table to another wall. No – we haven't tackled that big change yet! She doesn't quite seem ready, and I know I'm not ready, either. We also bought the clock above that is on the black chest of drawers. That was a really great purchase, and has been super helpful for the bed transition. I was a little iffy about whether it would work, but I had heard great things from others, and now I am officially sold on the idea. It has an alarm you can set so the clock will turn green when it is time to get out of bed (it stays green for a while, so if the toddler decides to sleep in, she won't miss out on the green light). Vivi thinks it is awesome, and we always make a big deal in the morning when she stays in bed until it turns green. Before we had it, she was getting up super early! The only drawback is there isn't a second timer for naptime, which makes it a bit confusing for her when there is no indicator that she can get up from her nap. It also has a built in night light that is quite bright, so we usually place a book in front of it to dim it just a little.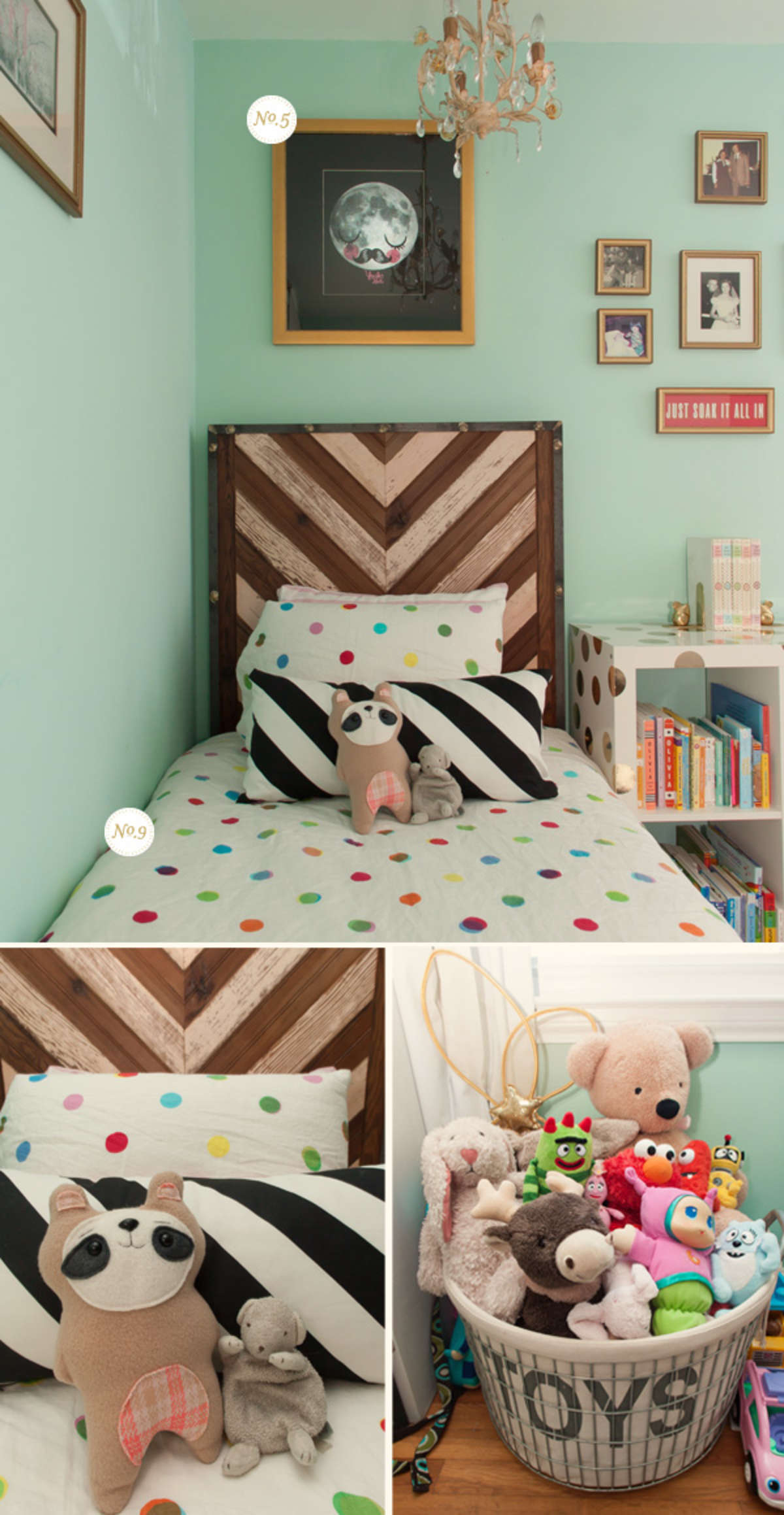 Some of you have asked about my toy organization strategy. We keep toys in Vivi's room and in the playroom. I also keep all wheeled items (such as a baby doll stroller, shopping cart, etc.) parked in the den in the corner, just because one night when she decided to get out of her bed she tripped on one of them, so I took them out because they were a bit of a nighttime hazard. It may not appear this way from the pictures, but I also try really hard to ruthlessly get rid of toys that aren't used and give them away. This really helps. I do it about every other month, and it always makes me feel better and less cluttered, and she doesn't notice. In her room, she has her animals that go in the toy basket, the kitchen toys that go in the kitchen, books that go in the bookcase, and the Little People toys just stay neatly parked in the corner. I try to have a home for everything, which really helps when cleaning up, and we also put away whatever we are playing with before moving on to the next thing to keep it under control. I also usually do a super quick pick up before naptime and bedtime. I'm really no expert – but that's my method if it is of any help!
Tags: girl nursery, gold, portfolio, toddler room
41 responses to "vivi's bright toddler room"