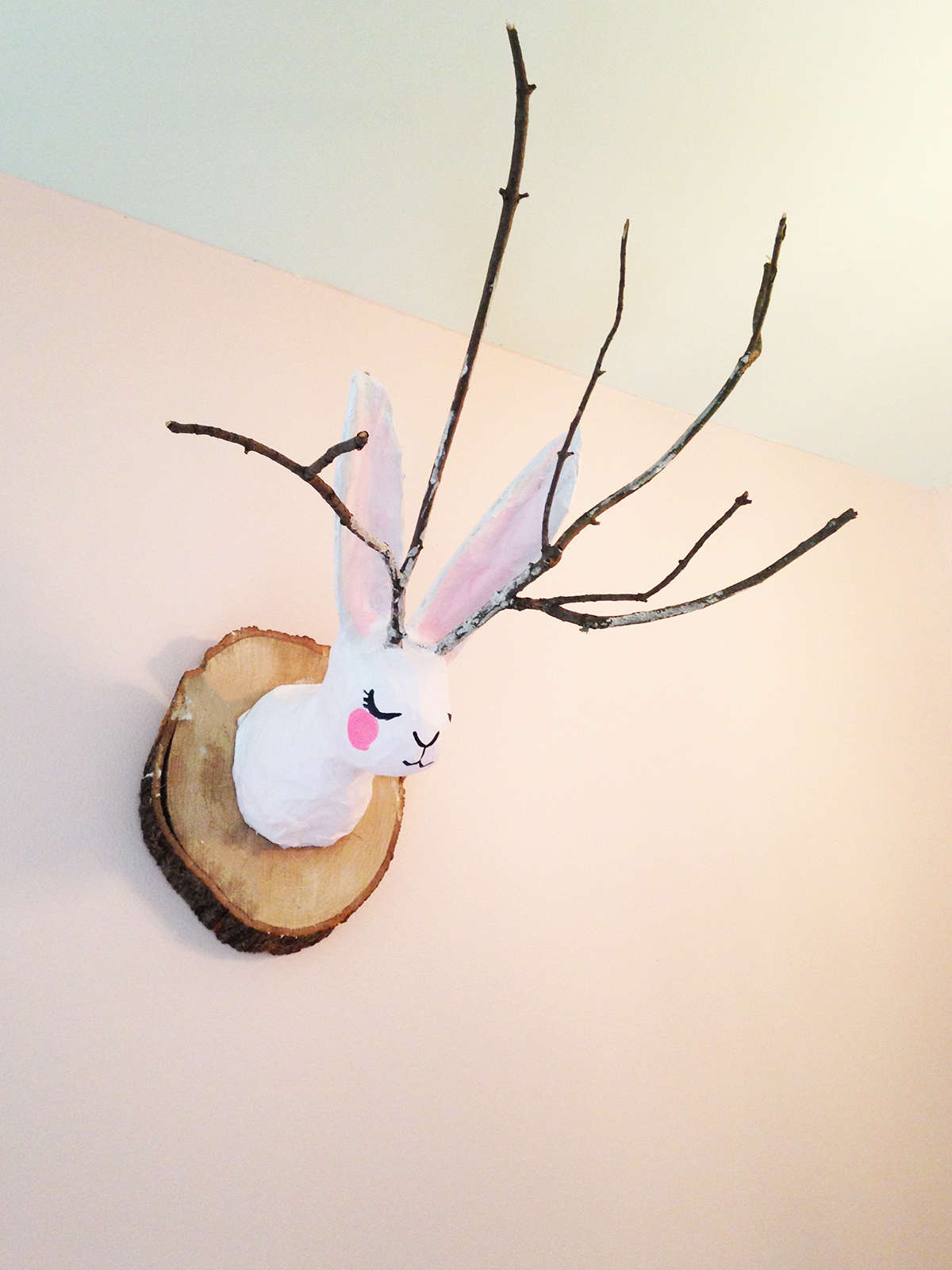 I made this little guy last week for a party, and to hang on Vivi's wall, and thought I'd share the process because it was so much fun.  Seriously, this project was some good Mama therapy, so try it out if you need some kind of stress outlet.  The best part is that you can make this pretty much from things you have laying around your house, and is a great use for junk mail.
I don't have the step by step photographed, but I followed this very helpful tutorial, and figured I'd share a few tips.
Here is what you need:
masking or painter's tape | newspaper | cardboard | paper towels | water | flour | a plaque or something to mount it to (like this or this) | sticks for antlers | drill | screws (about four) | paint | hot glue
I followed this tutorial very closely, but for the paste mixture, I just simply mixed 2 parts water to 1 part flour and it worked great, no boiling needed.  Just be sure to mix it well, and you can also cover it and store it in the fridge to use for each step.  Using paper towels to cover the newspaper form was a really great idea, and made it easy to really give the bunny head some shape (I also made the ears from cardboard in the first step).  After applying the paper towel layer, I had to rig up some string to hold the ears up as they dried (I tied string around the ears and clothespinned the string to a shelf in the kitchen to keep them upright).  They were really heavy with the wet paper towels, and wouldn't stay up otherwise.
Once it was all dry (which took a good 24 hours), they were hard as a rock and are very secure.  I did two layers of newspaper or magazine paper mache over the paper towels (and used the flour and water mixture, no modge podge, and it was fine!).  Before the last layer, I screwed the head into the wood base so the last layer of paper covers the screws.  I also drilled two holes in the top of the bunny head for the antlers.  I found drill bits about the same diameter as the antler sticks, and after placing them in the bunny head, I added some hot glue to hold them well and then put paper mache all around it.  I made sure there is about 3 inches of antler in the bunny head so it is extra secure.
The paper towel layer took the longest to dry, and the other two layers took about 6 to 12 hours, depending on how much paper you added.  Once it's all dry, you can paint!
It was really fun just working with my hands.  The girls colored on the floor in their coloring books while I worked on it, and it was so much fun.  I'll have to try one with Vivi next time!