spring closet clean-up
Monday, March 24, 2014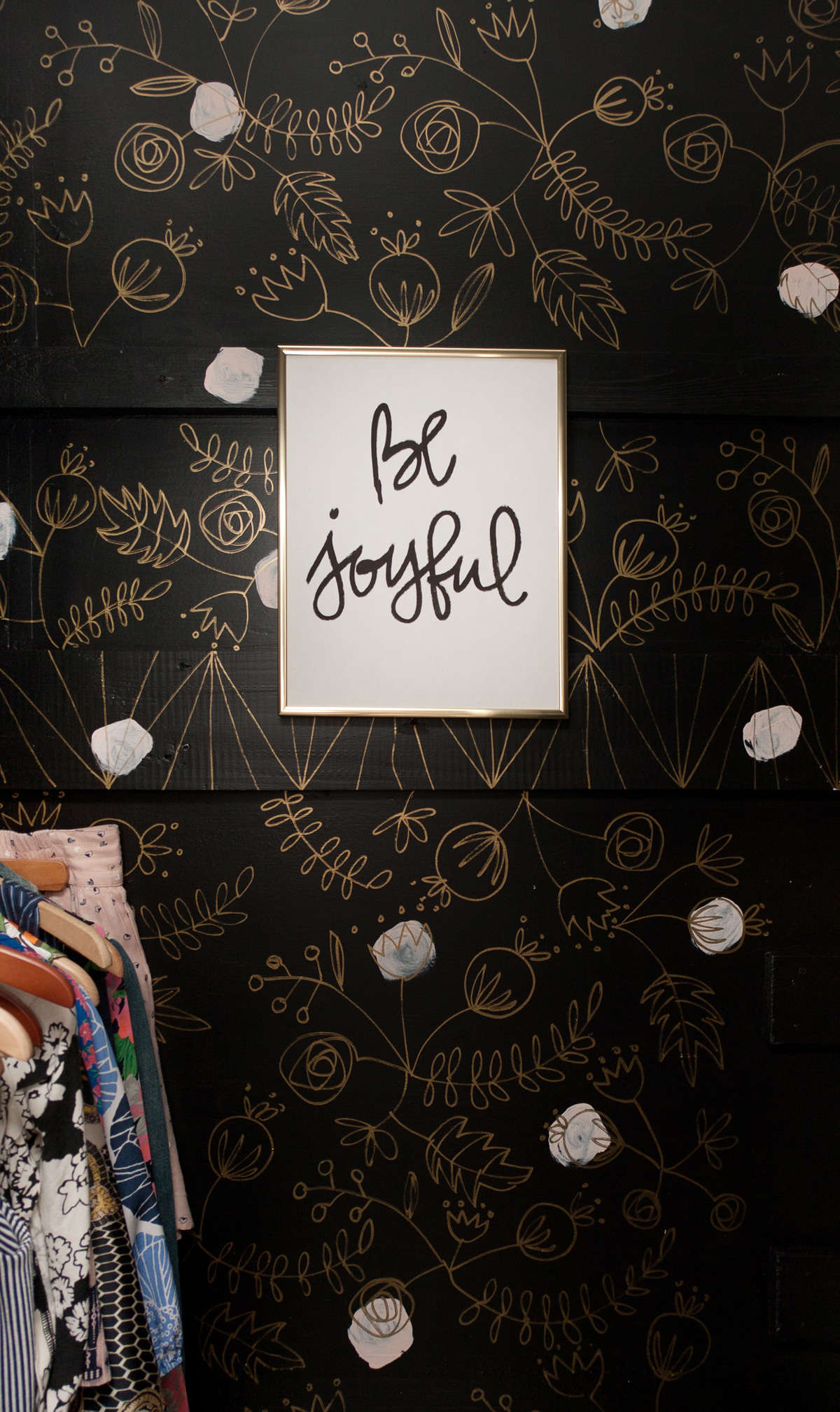 Recently, sweet Sheaffer asked me to participate in a new column on her blog, Pinterest Told Me To, called "closet confessions." (She uses Pinterest for wardrobe inspiration, and then posts her interpretations using items from her own closets, plus other great style tips!) She asked for some photos of my closet, along with a few details about some of the pieces hanging in it (check out the post to see). I quickly jumped on the idea because the thought of re-organizing and refreshing my closet has been on the back of my mind for quite awhile.
It can be a challenge to keep everything organized in this season of life, where it seems I am in a cycle of not pregnant, pregnant, super pregnant, post-pregnant, nursing, post-pregnant-and-not-nursing-but-haven't-lost-all-the-baby-weight-yet, and so on. And then if you hope to do it again, you don't really want to get rid of it all, because you don't want to have to buy new clothes when you are once again in the hopefully very short season of post-pregnant-and-not-nursing-but-haven't-lost-all-the-baby-weight-yet.
Also, as we live in a 1948 house, our closets are all fairly small so we don't have much extra storage. My closet is what I'd call a "step-in," as in you can step in, turn around, and step out. There is no walking involved, but you can actually get into the closet at a snug 60″ x 30″.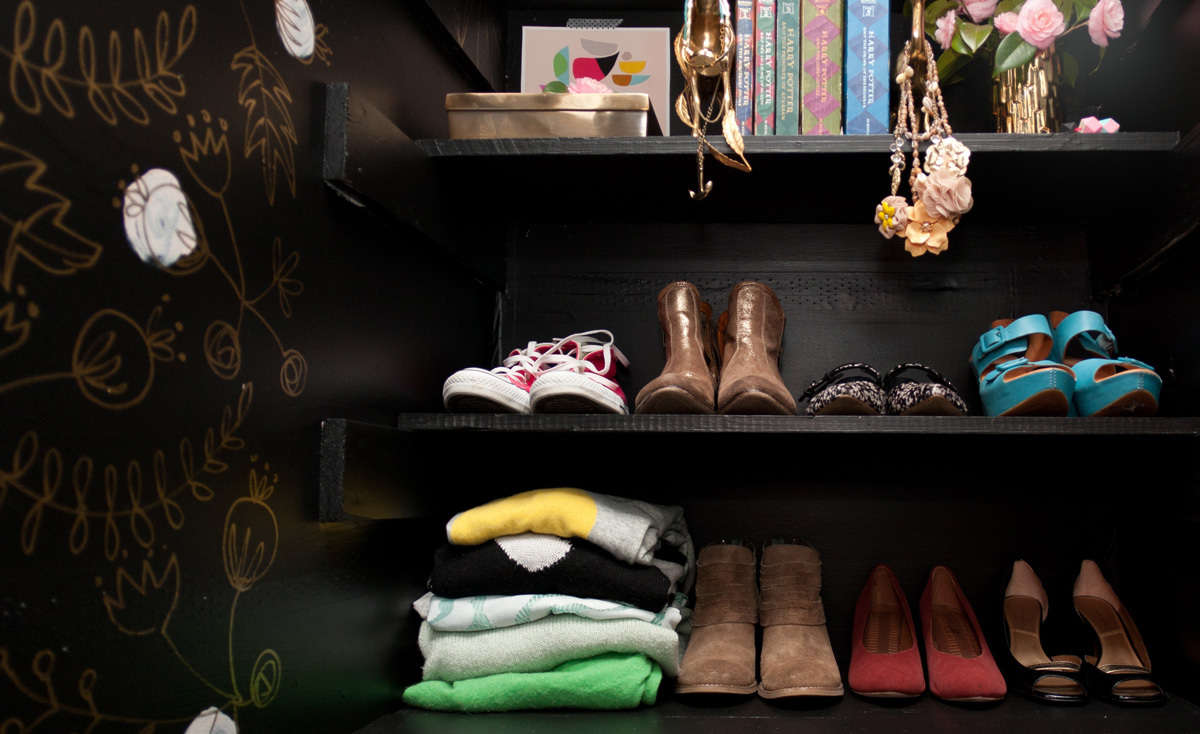 Formerly, the closet had a rod on both sides, with shelves above, and I had all most of my shoes scattered on the floor. I decided to paint it all black, to sort of give it a boutique look, and when I took down the rods and shelves I was happy to discover there were shelf supports already existing all up and down one side of the closet.
This was also extra incentive to do some real purging, because I've seen photos of gorgeous closets with shoes lining the walls. I did an honest evaluation of my clothes, taking out those that don't fit well or that I just don't wear, making a concise collection that fits on one rod. Then, I was able to organize my shoes up and down the shelves on the other side.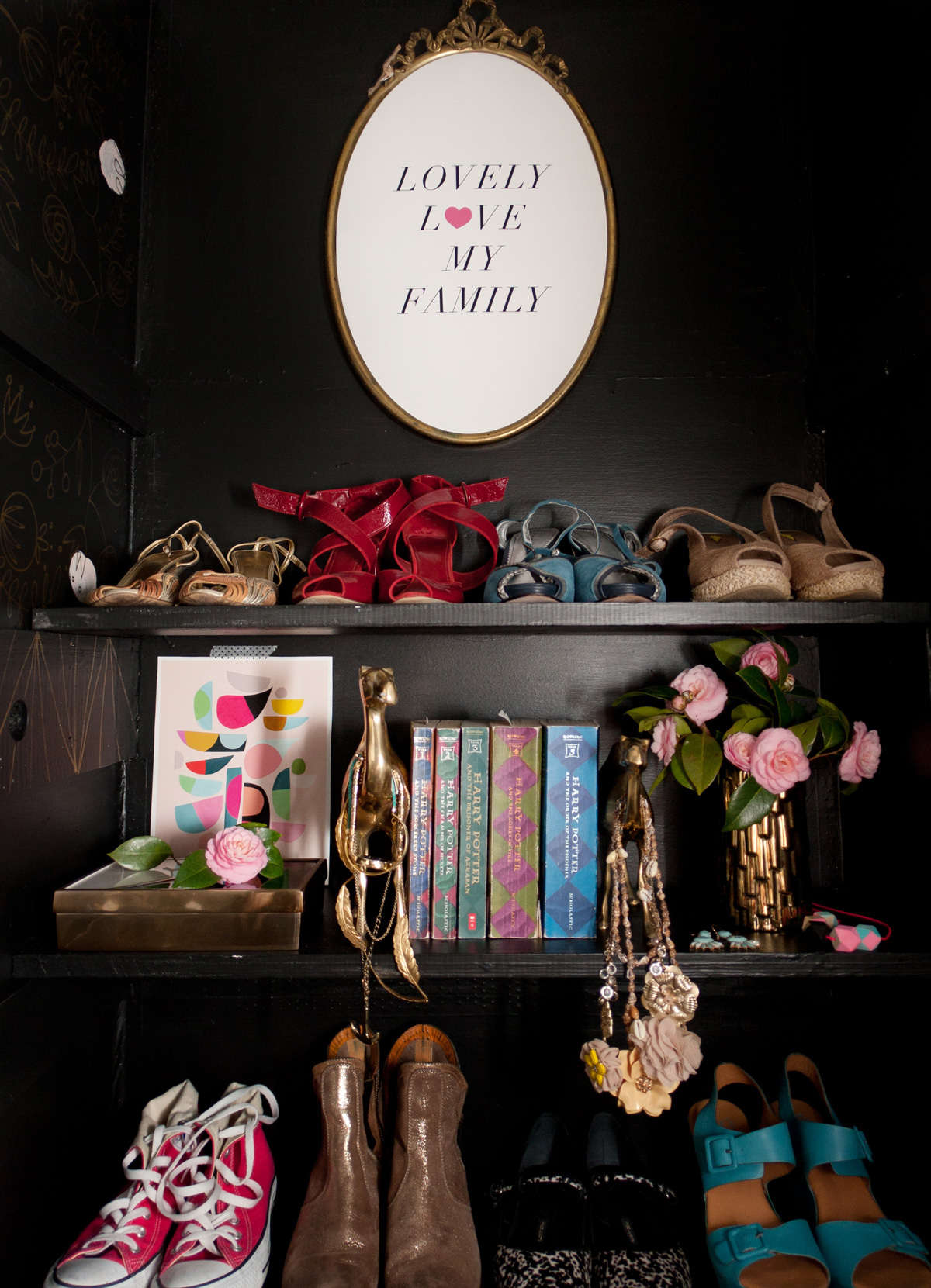 On one shelf, I displayed my treasured Harry Potter collection (my guilty pleasure when I'm feeling a little stressed) and a pair of vintage brass camels that are great for holding accessories, plus this lovely little box that contains smaller jewelry items.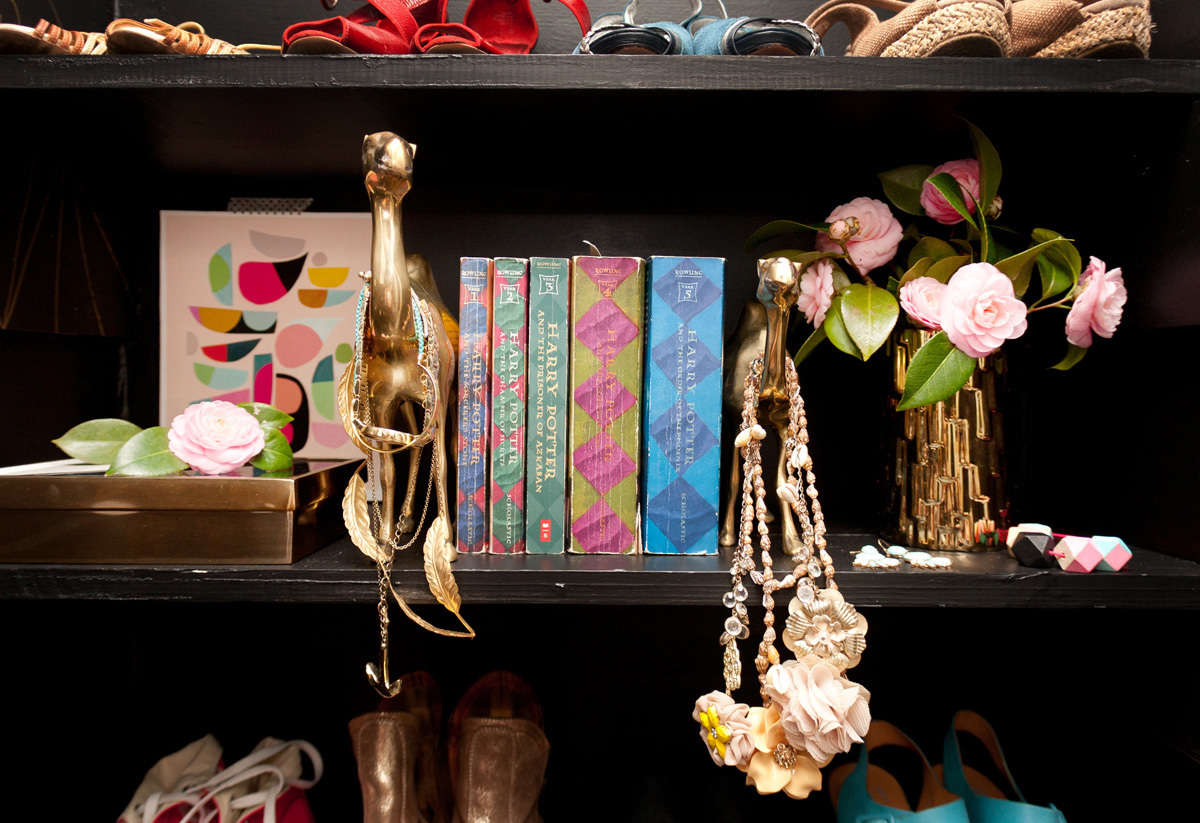 On the other side, I have clothes hanging on the rack, and my jeans are stacked on the shelf above.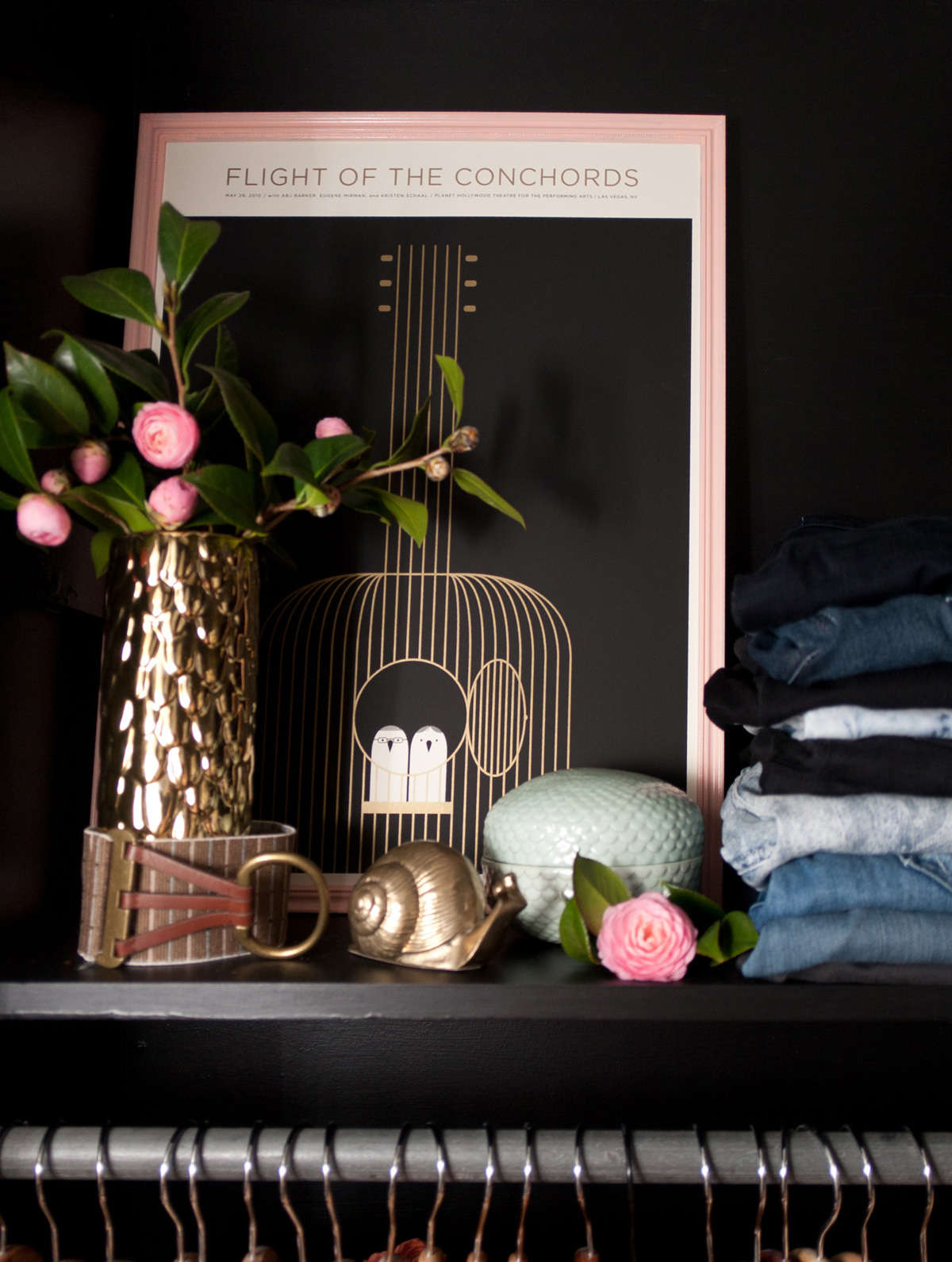 I painted the walls all black (caviar by Sherwin-Williams), which is really dramatic and fun, and I wanted to add some kind of interest to the back wall. I loved the backdrop Anna Rifle Bond created for the Rifle Paper Co. booth at the stationery show, so I tried my hand at a simple floral design (not nearly as awesome as hers, of course!) with a gold sharpie. I just wanted it to be kind of loose and organic and not too perfect and I also painted some light pink dots on the wall for a little added interest.
So, there you have it! A quick little closet redo. It took me about three hours from start to finish, seriously (of course, it's a very small space!), which was much less than I expected. It's so nice to actually know what is in there and be able to get to it easily, which makes getting ready infinitely better. I have maternity clothes and other staples I wanted to save in two bins under our bed, so the only items there are those I can wear at this point.
Be sure to check out Pinterest Told Me To today to see a few more photos, as well as some of my favorite things from my closet. I have several friends who are big fans of Sheaffer and take lots of inspiration from her, and if you aren't familiar with her site, she's an adorable wife and mom who uses Pinterest as inspiration to put together outfits with items from her own closet. She has become somewhat of a personal stylist for her readers, giving them courage to try out new trends and looks, and they clearly love taking her advice!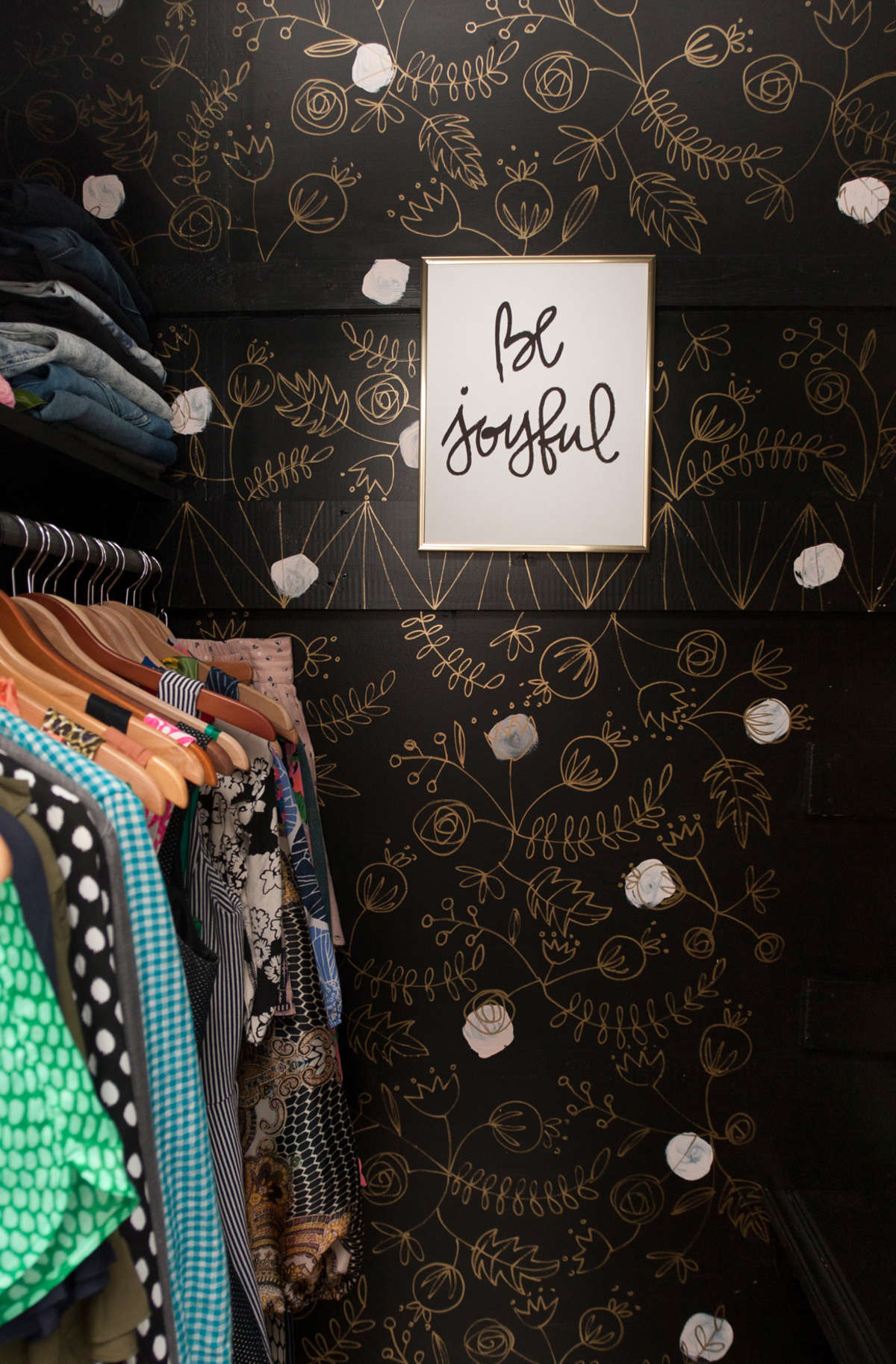 Thanks, Sheaffer, for letting me play along! Be sure to enter the awesome $150 Stella and Dot giveaway she is offering below!
35 responses to "spring closet clean-up"